I'm an Atlanta native but am still discovering small towns and delicious places to dine.  Nestled in the five points of Crabapple's Historic District lies the distinctly unique Milton's Cuisine & Cocktails.  The restaurant occupies a 150 year-old farmhouse & 1930′s cottage that were preserved and restored to create one of Atlanta's warmest dining environments.  I first discovered Milton's during The Atlanta Chef's Expo a couple of years ago and then had the distinct pleasure of working side by side with Executive Chef Derek Dollar during Taste of Atlanta.   I then attended one of the amazing garden dinners that take place with 80 or so of your closest friends in Milton's Acre which is where most of the organic produce comes from during the growing season. (hence the "seed to fork" experience.)  Well after two summers of enjoying the dining experience outside I decided it was time to venture inside and settle in for a truly memorable culinary evening.
We arrived at 7 and were greeted by General Manager Nate Bell and the host team. While our table was prepared we  headed toward the cottage bar featuring live music and an energetic crowd.  The atmosphere reminds me of my home growing up with warm woods and comfortable surroundings.  You know those feelings you get when you're in a place that just feels great.  (My dad had a bar but just not this big!) Order a glass of wine (or get a bottle!) I highly recommend the Prisoner red blend of Zinfandel, Cabernet Sauvignon, Syrah, Petite Sirah, Charbono, and Grenache.   "Its deep ruby/purple color is followed by a big, peppery, meaty, Rhone-like bouquet with hints of bay leaf, unsmoked cigar tobacco, black currants and sweet jammy cherries." Yes, I couldn't have said it better myself!  I even tasted hints of chocolate.  It paired nicely with not only the amazing food but the ambiance of the restaurant. #TotalYum.
We then transitioned through the old farmhouse and into one of the cozy small rooms and sat near the fireplace.  The mood was already perfect.  Our server Jay was spot on all night as was the entire Milton's team.  We were treated like family but a family with no dysfunction.  You know, where everyone gets along! Executive Chef Derek Dollar came out to say hello and made some great recommendations.  Our apps included P.E.I. Mussels with applewood smoked bacon, caramelized onion, parsley, creme fraiche, and grilled bread to dunk,  Smoked Cheddar, Country Ham & Sage Grit Fritters with apple butter,  Smoked Chicken Confit with creamed corn, baby kale salad, sorghum-pecan vinaigrette and Bourbon-Apple Braised Pork Belly with crispy pork belly, grits, greens, and chow chow.  We're just getting started! Make room for the next course!
There are so many great choices on the Milton's menu but we decided on the Red Eye Brined Smoked Pork Shank with sweet potato-andouille sausage grits, brussels sprouts and candied pecan apple butter.  Just simply amazing! Perfect for fall and winter.  We also enjoyed the Veal Osso Buco with truffled asparagus & Parmesan barley risotto, roasted heirloom carrots and carrot top gremolata.  Chef and the team really know how to nurture your soul through their food!
Of course we had dessert but I won't distract you anymore.   Make Milton's your foodie destination.  (Try their Sunday Brunch  Yes, order the bloody mary too!)  Milton's Garden dinner is HERE.
For years since I was a child, Macy's has always had The Great Tree lighting on Thanksgiving night.  The Great Tree started downtown on top of the Rich's Department store in the 1940′s then transitioned to Underground Atlanta and ended up at Lenox Square on top of the now Macy's Department Store.  In 2012 a crane removing the fully decorated tree from the roof snapped and the tree slammed into the roof entering the mens store (store was closed at time) and breaking windows on side of building.  Macy's decided it was time to go to an artificial tree (much like Macy's in San Francisco) and move the tree off the roof to the parking lot.  The tree, even though much smaller in size, seemed out of place there. 

This year Macy's Great Tree returns to the roof where it all started!  Inside sources (elves) say the outcry from the public was overwhelming.  So this year look up and #Believe in Atlanta's annual holiday tradition.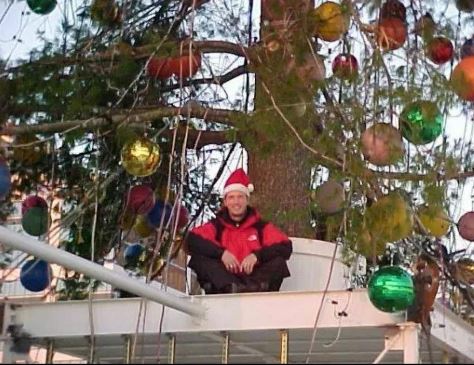 I slept under the Rich's-Macy's Great Tree for over 2 weeks during the "All I Want for Christmas is a President" campaign in 2000.
Set sail with Mariah Carey like you've never seen!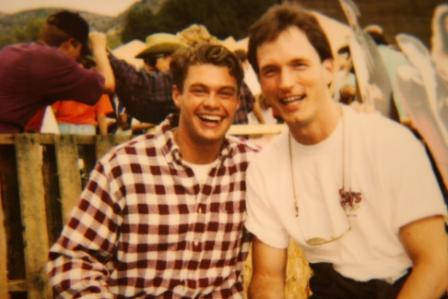 I remember that day in January of 1992 when Ryan Seacrest phoned me on the air at Star 94 FM.  "I go to Dunwoody High School and do the morning announcements.  I'd love to learn more about pop culture and radio."  Ryan came in that Saturday afternoon and we hit it off.  His passion for radio was just like mine.  We both got excited over segueing a song, running a tight board, playing the jingles, answering the phones….  I trained Ryan in all aspects of radio for the next several months.  We became really great friends during that time and in September of 1992 during an extended Labor Day weekend, I called Ryan and said "Buddy, do you want to go on the air for me tonight?!"  That was the beginning of Ryan's now illustrious broadcasting career.  We still talk and remember the early days of his career.  The only difference is he could now buy the radio station!  Thank You for giving me props on #KimmelLive buddy.

I started in radio with a totally different experience. Yes, radio really quacked me up!
I was shopping at Costco today and all the screens in the store were playing the Coldplay video "A Sky Full of Stars."
Of course I've heard the song but had not seen the video and I stood there and felt the true celebration that was unfolding!  Chris Martin strolling through the streets of Newton in Sydney Australia with a drum on his back and instruments around his neck while fans line the streets and join in the fun but never interrupting the flow.  I love Chris and his amazing love of life!  This song provokes the same spark in me that Katy Perry "Firework" does.   Life is filled with Stars.  Celebrate that you are one of them! #JoyRising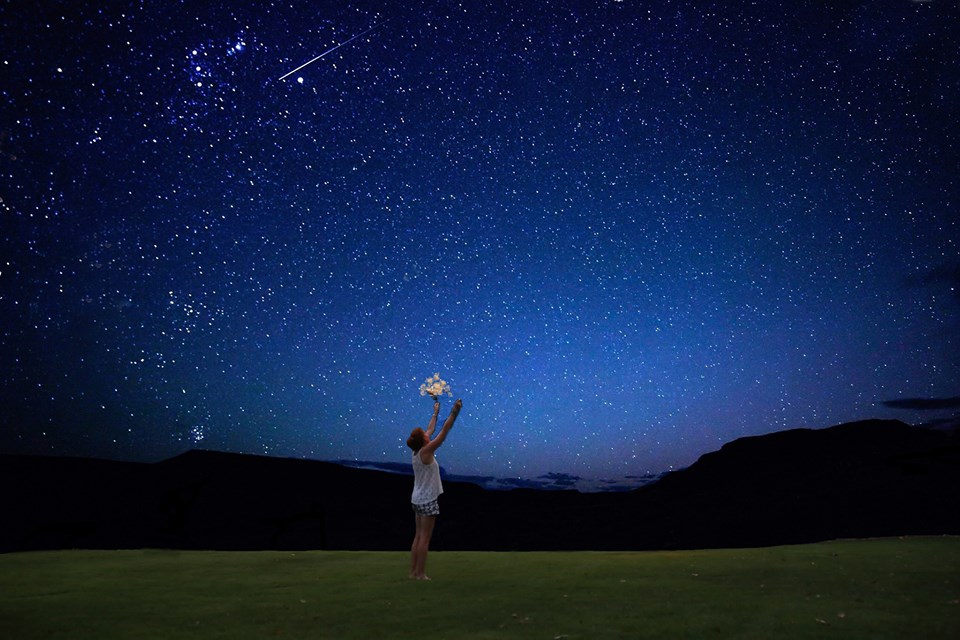 From Coldplay to Mariah HERE!
Spinning Plates the movie is a culinary journey through the kitchens of 3 separate restaurants.  One of the best restaurants in the world, another that is built on community, love of the locals and the third is a loving couple following their dream.  If you love the dining experience in all forms like I do, then Spinning Plates will wet your appetite to get in the kitchen!
The main course in the film is the musical score.  Ed Shearmur composed a delightful treat for the ears that is served up throughout the entire movie.  The essence of each chef and restaurant is cooked to order through Shearmur's culinary compositions.  The emotional involvement as viewers to this amazing documentary is a feeling of complete satisfaction as to having enjoyed the best dining experience ever.
Grab a glass of your favorite wine, prepare a fabulous dinner, turn off the cell phone and give 100% of your mind to Spinning Plates.  5 Stars!
Fork HERE for something you can really sink your teeth into!!
Tom Sullivan is a Television Host and Corporate Emcee based in Atlanta Georgia.  Tom annually hosts Taste of Atlanta "Chef's Table" where he shares his love of food with local Chef's.
---