Spinning Plates the movie is a culinary journey through the kitchens of 3 separate restaurants.  One of the best restaurants in the world, another that is built on community, love of the locals and the third is a loving couple following their dream.  If you love the dining experience in all forms like I do, then Spinning Plates will wet your appetite to get in the kitchen!
The main course in the film is the musical score.  Ed Shearmur composed a delightful treat for the ears that is served up throughout the entire movie.  The essence of each chef and restaurant is cooked to order through Shearmur's culinary compositions.  The emotional involvement as viewers to this amazing documentary is a feeling of complete satisfaction as to having enjoyed the best dining experience ever.
Grab a glass of your favorite wine, prepare a fabulous dinner, turn off the cell phone and give 100% of your mind to Spinning Plates.  5 Stars!
Fork HERE for something you can really sink your teeth into!!
Tom Sullivan is a Television Host and Corporate Emcee based in Atlanta Georgia.  Tom annually hosts Taste of Atlanta "Chef's Table" where he shares his love of food with local Chef's.
I remember my mom prodding me through all my merit badges on the way to Eagle Scout. Both my brother Walker and I received the cooking merit badge but through the years I've grown  to  enjoy being served an excellent meal rather than preparing one!  Recently I was treated to Walker's award winning BBQ Brisket.  Now I've been to Bobby Flay's restaurant in New York.  As a matter of fact we waited 1 hour for a table and then found the sauces were the only enjoyable part of the meal.  Walker has a way with sauces and his recent dinner was just that–Exceptional.
The beef brisket is slow cooked on his Big Green Egg.  The flavor is unbeatable.  But the Adam Perry Lang BBQ sauce makes this dish.  I found myself going back again and again…and then getting a straw! (You can find the recipe in Adam's book Serious Barbecue.)
And yes, the corn is also cooked on the Big Green Egg.  Homemade organic cole slaw.  Put some BBQ sauce on the slaw ya'll!
For dessert Walker made a homemade Chocolate Mousse Pie that was just perfect after the heavy brisket.
Skip the canned whip cream.  You'll want to stick to the recipe and make it fresh.
And to top it off, fresh Georgia peaches seared in an iron skillet with bacon!!
I snapped a pic of the recipe for the Mousse….simple to prepare but then again, I'm not cooking it!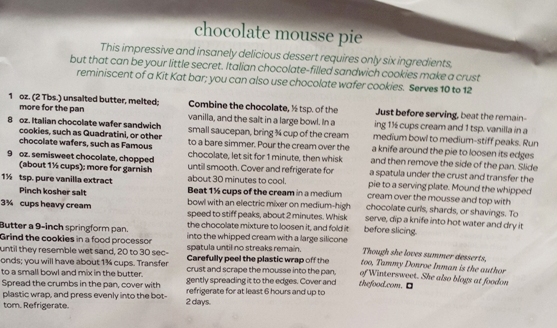 Ready to taste more of the best?  Grab your fork and click HERE!
Tom Sullivan is a Television Host and Corporate Emcee based in Atlanta Georgia. Tom annually hosts Taste of Atlanta "Chef's Table" where he shares his love of food with local Chef's.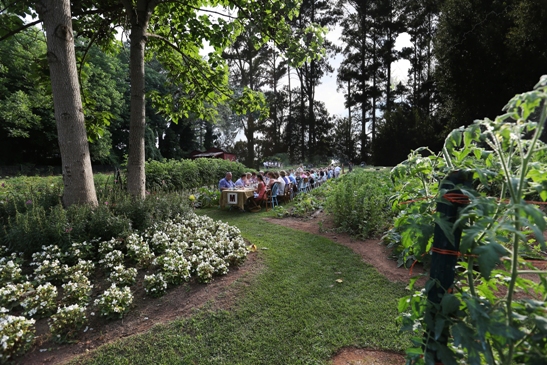 Garden Dinners throughout the summer in Milton's Garden acre. Organic farming from seed to fork. Reserve your seat for the September and October seatings here!
Tom Sullivan is a Television Host and Corporate Emcee based in Atlanta Georgia. Tom annually hosts Taste of Atlanta "Chef's Table" where he shares his love of food with local Chef's.

I've always wanted to travel to Italy to eat pizza and drink wine.   So in the meantime  I traveled just across town to experience Don Antonio by Starita.  Now I've had amazing pizza here in Atlanta, Woodstock and in between but clear the plate because Don Antonio is in town and is truly the best I've ever enjoyed.


Located to the right of the St. Regis hotel in a small strip center is Don Antonio.  (Far left corner of center that has Dry Bar.)
World-renowned Neapolitan pizza chefs, Roberto Caporuscio of the wildly popular Kesté Pizza & Vino in New York City, and his maestro, Antonio Starita, third generation owner of one Naples' oldest and most revered pizzerias, Pizzeria Starita a Materdei, have joined forces to bring authentic Neapolitan pizza to  Buckhead Atlanta at Don Antonio by Starita.
Don Antonio is rolling out their summer Georgia peach menu featuring Georiga peaches.  We started with homemade Bellini's. Georgia peaches, raspberry puree and prosecco all combine to say you are loved!!

Why stop there so we didn't! Bring on the "A.T.L." (I thought it meant all the love or at the lounge.  It was all that.)  Freshly brewed iced tea with perfect Georgia peaches, oranges, lemons & simple syrup topped with bourbon!! (The peaches have been soaking in bourbon too!)

Now the life changer.  Burrata Con Pesche.  Housemade burrata, georgia peaches, mint, lemon, cherry tomatoes, balsamic glaze and extra virgin olive oil.  This beautiful "pillow" of love was by far the most incredible tasting Burrata I've ever had.  Period.  Just take a moment and lust after it…yes, you are drooling.  Your tongue is tingly.  Go there now.

They make the mozzarella fresh daily.  You will taste the difference.  Slowly savor every bite.
The Insalata Di Pesche E Lampone with Georgia peaches, raspberries, arugula, parmigiano reggiano, balsamic vinegar and extra virgin olive oil was crisp, refreshing and beautiful.
Vikki and I stepped over to the kitchen where two Italian pizza ovens cook pizzas in just 90 seconds! We began with the Pizza 'Ndjua.  This pizza is just pure Italian love.  Local andouille sausage (INCREDIBLE!), spicy sopressata, crescenza BelGioioso, smoked buffalo mozzarella, extra virgin olive oil.
Slightly charred on the edges just like I love.  Flavorful, bite after bite.  My Favorite.
Another must have is the Pizza Savannah.  Housemade mozzarella, collard petso, pecans, local bacon, parmigiano reggiano, extra virgin olive oil.  The bacon is just awesome.
Don Antonio by Starita is a destination.  (Directions HERE.)  It's tucked away in the back left corner of the strip center but worth every effort to find it.  I suggest grabbing your friends and family and going there now before more people discover this Italian jewel.
Ready to taste more?
Tom Sullivan is a Television Host and Corporate Emcee based in Atlanta Georgia. Tom annually hosts Taste of Atlanta "Chef's Table" where he shares his love of food with local Chef's.
I've always loved photography and over the past several years have grown to love it even more.  I started with Canon at birth!  My first camera was a point and shoot Canon film camera.  I then purchased my first video camera with VHS recorder pack and then upgraded to an all in one unit (much the same size of TV station pro gear.)  Then in 2008 I upgraded my Canon G4 to a Canon 40D.  In February of 2013 I upgraded to a Canon 7D and began a new journey.  Having video capabilities opened my eyes even more!  I traveled to Dominican Republic and Kenya with SERV International on mission trips.  Capturing the essence of these journeys was amazing.   Just a month ago I was having a conversation with Denis Reggie on full frame cameras.  I was looking at the Canon 5D Mark iii when Denis suggested the Canon 6D.
I took to the web and my favorite site Ken Rockwell.  Ken has one of the consistently best sites online in terms of layout, ease of navigation and beautiful up close shots of each piece of gear he's reviewing.  Ken seems like a great guy who won't try to up sell the reader because he's getting a kickback from the big camera companies.  I appreciate his guy next door opinion. (As a matter of fact, Ken stated that he purchases all of his gear.)
There are multiple links on Ken's site to retailers selling the gear he reviews like B&H Photo, Adorama, Amazon or ebay.  If you use his links he gets a "referral" fee. (This practice is common all over the web.) The way I see it we're enjoying his website for free and I value his research information.  (I donated a few $ recently to say thanks!)
I check out other sites as well for a second opinion but my first stop is Ken Rockwell.com
More pixels by Tom here!
---