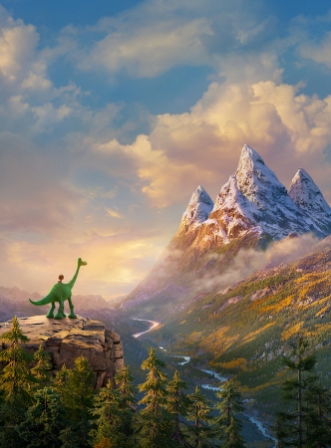 I love Disney Pixar and have been wow'd since the creation of Toy Story!  The Good Dinosaur is another great movie from the brilliant minds at Pixar.  Beautiful cinematography, characters you love and a moving soundtrack all combine to become another must see Holiday film.  Take a look for yourself!
Viewers of Atlanta & Company who watch my segment "It's All Good" on Tuesday, November 24, 2015 at the start of the show exactly at 11:00 a.m. can win this awesome collectible The Good Dinosaur gift basket complete with talking plush characters from the film!  (Contest is conducted by Tom Sullivan and not WXIA-TV nor Atl & Co.)
Pixar Animation Studios takes you on an epic journey into the world of dinosaurs where an Apatosaurus named Arlo makes an unlikely human friend. While traveling through a harsh and mysterious landscape, Arlo learns the power of confronting his fears and discovers what he is truly capable of.  A great lesson for us all!
Here's another great movie your family will love!
**TO ENTER:
Send your answer by email to: tomsullivanhost@gmail.com
–include YOUR NAME
–include answer to this question: what Thanksgiving item did Christine cook that is not really Turkey but called_______! Hint- duck.
If for some reason the president spoke and the show was interrupted just email your name and we will draw a winner at random
**Contest Rules:
–contest conducted by Tom Sullivan
–Entries accepted 11-24-2015 from 11:10 a.m. through 11:59 p.m. only
–email Tom Sullivan: tomsullivanhost@gmail.com
–1 winner selected at random and notified by email
–winner must respond within 24 hours or prize forfeited
—winner MUST pick up prize at WXIA TV studios week of November 30th. between the hours of 9:00 a.m. and 5:00 p.m. (Monday 11-30-2015 through Friday 12-04-2015.)
–Prize cannot be mailed.
–Entry bound by these rules.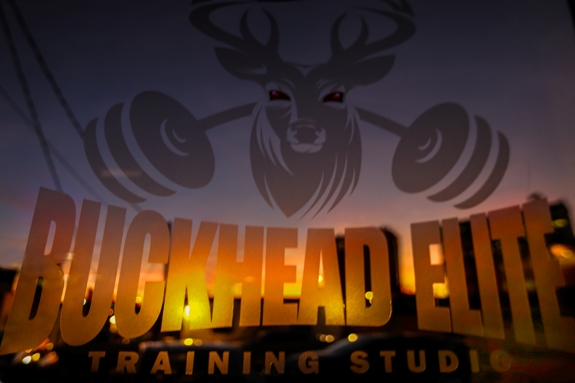 For the longest time I have done the solo workout thing at the local LA FItness.  I would sometimes push myself but never far enough.  Every summer I'd see guys in great shape and say "one day!"  My "one day" became a reality over a month ago when I discovered Buckhead Elite Training Studio​.  Certified personal trainer Scott Cameron​ was in the gym at the time of my Cryo Elite Therapy​ appointment and we engaged in conversation. We spoke about my fitness routine and goals.  It was then he asked me if I would like to start training at the studio. I was unsure if I wanted to make the commitment to being held accountable with my food intake, WINE (Martini's!) and showing up and giving it my all.
Just over a month later I can say WOW!  I SEE results I've never seen before! I have a feeling of confidence and overall accomplishment of growing not only physically but mentally.  I'm not alone because Buckhead Elite Training Studio has people from all walks of life.  Moms, Dads, teenagers, athletes, average joe's, women and men of all ages…people like me who want to better themselves and have waited long enough.  The environment is one of success, positive energy and friendly, personal trainers who really care about your journey, your success.  This is more than a place to get in shape, it's a place of connection with your God given vehicle and how you value yourself.  Sometimes it's hard but life isn't always easy!  And now that I'm talking about this on a public forum (including facebook) I don't have anymore excuses!
Yes, I know the holidays are coming and my favorite foods and drinks will be all around me and it's ok!  I can indulge (to a limit) because it's all about moderation.  You can have this too!
With the start of 2016 will this be the year you join the "elites" who really want to make that change?  YES!  #YOUCANDOTHIS  Don't let the sun set on your dream!
Thank You Scott Cameron and all the great personal trainers at Buckhead Elite Training Studio for your support, motivation, encouragement and dedication to improving our lives, one body at a time! Speaking of vehicles, you should see the car I won in a radio contest!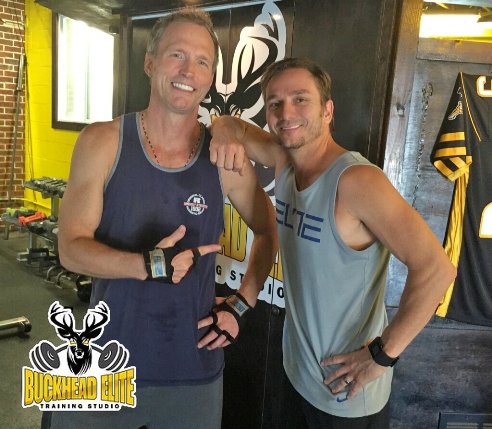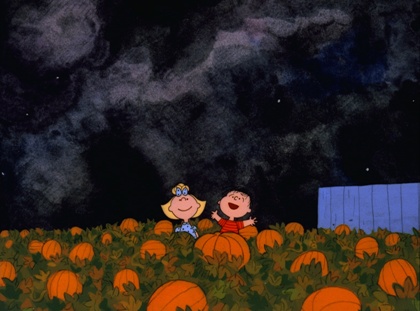 Join me for the annual Great Pumpkin Carving contest at The Atlanta Botanical Garden this Thursday night from 7 p.m. – 8 p.m.  I'll have prizes of scary dvd movies, T-shirts and other fun all while watching skilled chef's and carvers create magic in a limited amount of time.  Stroll the gardens sipping cider or brew and enjoy the scarecrows hiding throughout!  Have you seen the Atlanta Botanical Garden during the Spring?  See it here!
Georgia Natural Gas is offering the best rate I've seen in a long time! Just 39.9 a therm.  12 month fixed rate.  Plus, get a $25 welcome credit to your first bill and they'll cover up to $150 of transfer fees too!  Use Promo Code: GNG25WC or you can call 888-211-8322 or sign up here!  For more money saving ideas, visit SullivanShops.com
On a beautiful fall afternoon we gathered under the towering Oak tree in the garden of Century House Tavern to experience the new fall menu from Executive Chef Daniel Porubiansky.  Chef Daniel moved from the executive chef post at what is arguably the most highly regarded restaurant group in Atlanta and known around the U.S., (Bacchanalia and Star Provisions)  to Woodstock after a career that has spanned four decades, two continents, a fistful of AAA Diamonds and nearly enough Michelin Stars to require three hands to count them!  Yes, this is the amazing culinary creative being served at Century House Tavern.
Managing Partner and General Manager Jon Hayano, along with an experienced staff was there to greet us with livations.  Let the show begin!
The food for the meal was supplied by Farmer Tim and wife Nichelle from Rockin S Farms.  Chef Daniel is a fan of using locally grown produce and farm raised meats.  You can taste the love in every bite!
Nichelle, Kaedy Kiley and Farmer Tim
Our first course was Butternut Squash Soup.  Toasted Pumpkin Seeds & Leaning Ladder Butternut Squash Seed Oil.  On the spoon rested a Spaghetti Squash Salad of Goat Cheese Mousse & Truffle Vinaigrette.  #Fall-licious!
Just perfect.
This dish was paired with a glass of Jacqueline Brut and I actually enjoyed it since I mostly prefer wine.
Up next Seared Sea Scallops served with Braised Mustard Greens & Turnips.  I could lay down on these pillows and comforting greens.  Every aspect of this dish from visual presentation to texture, flavor and love was present.
This dish was delightfully paired with a glass of Gerard Bertrand Rose which was another delicious surprise!
Up next, the main attraction!  C.H.T. Signature Pot Roast!  Sweet Potato Puree, Sweet Potato Chips & Roasted Local Porcini.  This dish is a warm blanket of love.  Think tender many times over.  Think…Heavenly.
The pairing was a glass of Lodi Estates Cabernet Sauvignon. YES YES YES! Order a bottle of this amazing grape!
Chef Daniel describes the entrée as everyone just drools!
Still hungry? You bet! The Ellijay Prichett Orchard Gala Apple and Frisee Salad was served with Bacon Vinaigrette & Nature's Harmony Georgia Gold Cheddar.  This salad was a combination of love and gratitude.  #OrderThis
Assistant Manager Michelle created our pairing of an Autumn Apple Cocktail Martini!  Light cinnamon topped. #PRAISE!
Thinking that I couldn't eat anything else Chef Daniel and the team brought out a Double Chocolate Chip Brownie with homemade Salted Caramel Ice Cream.  I immediately found room for this one!
Slightly warmed, a little crispy on the edges (you know you love it that way!) and soft homemade ice cream OH MY!
Warre's Red Port was the perfect pairing.  Nothing but smiles after this!!
Every Course received a joyful round of applause!!!
Thank You Farmer Tim from Rockin S. Farms for loving what you do and sharing it with all of us!
Farmer Tim and Tracy
Thank You to Chef Daniel, Jon Hayano, Paul, Adam and the entire kitchen team for bringing us all love on a plate.  Also Coleman and Michelle, along with the entire C.H.T. staff for always bringing your A game.    Happy Fall ya'll!
Century House Tavern
125 E. MAIN STREET
DOWNTOWN WOODSTOCK
770.693.4552
Tom Sullivan is an Atlanta TV Host and Corporate Emcee  whose love of food has led to hosting Chef's Table at the annual Taste of Atlanta.  Tom often shares his experiences on his blog: TomOnAir.com
---