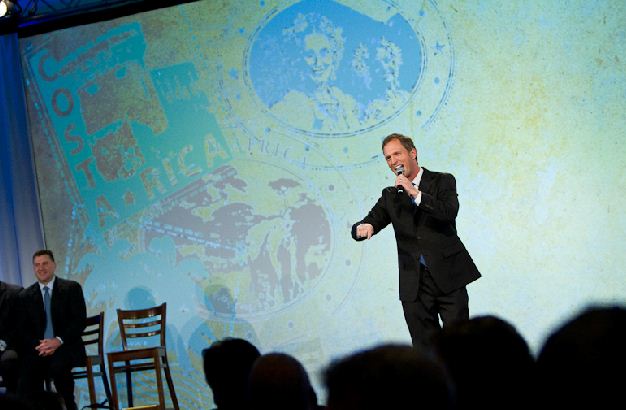 When companies want an engaging Master of Ceremonies to liven up their event, they call Tom Sullivan. Tom has been hosting events for Fortune 500 companies and Charities for years.  As a Television host and Radio personality, Tom has the ability to genuinely connect with the audience while maintaining the flow of the event with a comfortable energy.   "I love interacting with people and am passionate about using my personality as a Brand Ambassador for a company, product or client" says Tom.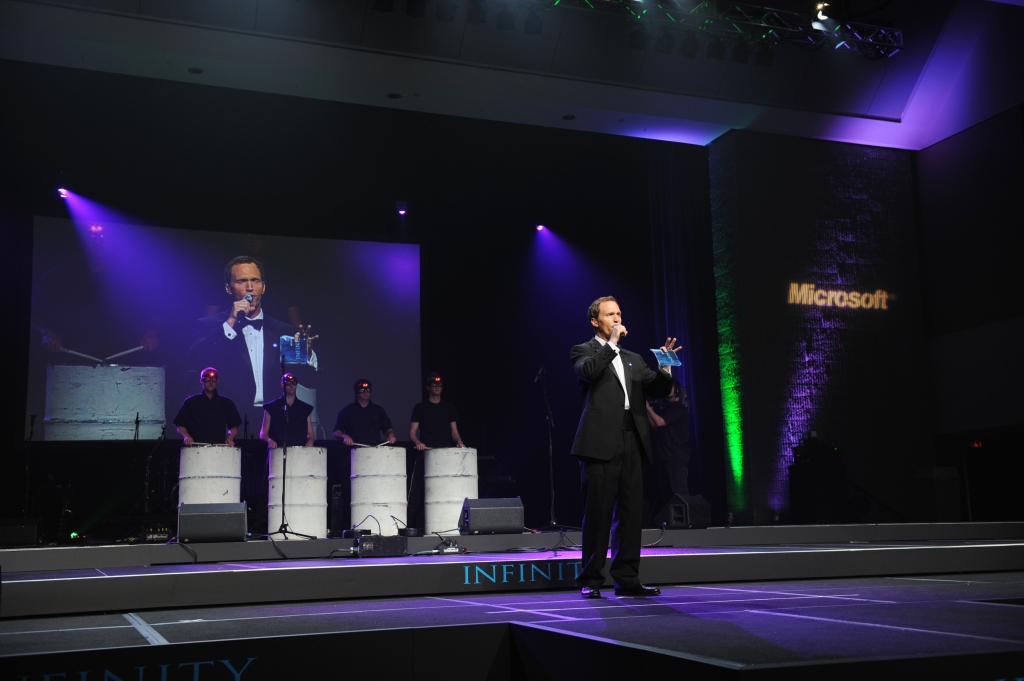 Ellie from The Atlanta Convention & Visitors Bureau says  "You were terrific and really kept the show moving.  You made the event very personal and intimate. I look forward to working with you again."
William Pate, President & CEO of The Atlanta Convention Visitors Bureau says:  "…we have received many compliments on the program and more specifically the flow of the event, which is thanks to your management of the program as emcee."
Tom Hosts The Atlanta Convention Visitors Bureau "Hospitality Hall of Fame" Induction Ceremony!
Jane Fonda: "I really appreciate your taking the time to emcee our benefit premiere. It was fun and you were great!" (G-CAPP)

Tom Sullivan Host and Emcee

Tara from Go Productions: "Your energy throughout our event (Mercedes Benz U.S.A.) kept our participants engaged and upbeat. We really appreciated how you incorporated branding information and other details about the company in your interaction with everyone.  The competition would not have been has lively or as fun without your presence. Thank you!"
Sarah from "Sixth Sense" in U.K. says "what an absolute pleasure it was working with you.  You took on a lot of last minute changes, had to get to grips with complex subject matter in a very short space of time and delivered your links impeccably.  You also brought energy to the conference which was of enormous benefit and from my perspective, I found you incredibly easy to work with.  So a big thank you from all of us at Sixth Sense for your professionalism and lack of diva-ish behaviour – it makes our lives so much easier."
Tom Hosts "Inside The Food Studio" at Taste of Atlanta with Francine Reed!
Bev from Ernst & Young says "Thank you again for your helping to make the awards gala such a great event.  Your energy and enthusiasm added to the excitement of the program!"
Robert from AT&T says "You bring the same skill sets to an event as Ryan Seacrest. It's evident where Ryan got his training.  Superb performance during the executive conference."
Lucy from FOCUS says "Thank You for making our crowd Roar! …and open their pockets to FOCUS. We can plan, prepare and organize but it's difficult to make guests have fun. You, however, did just that! We are grateful for your time, talent and energy. You're the Best!"
Steven from DIFFA New York says:  "On behalf of Gift For Life and DIFFA, thank you so much for flying in and assisting with the  event. You did such a wonderful job with a tough crowd. Kudos!"
Kathleen from Techbridge "Digital Ball" says:  "Thank you!  Thank you for contributing to our wonderful evening.  Your energy, passion and great job sparked the group and got them going and kept them going.  We have heard from many of our guests that it was the best ever."

Tom hosts the McKesson Sales team awards!

Tom Hosts Rite Aid Expo with Patrick Warburton
"Tom, you did a remarkable job. You really brought my event to life – personality, humor, energy, FUN! You were extremely flexible and focused on task, committed to learning about my client's company and promoting their target message at this event. You worked effortlessly with the public patrons, as well as with the client and my team. You were an absolute standout and spot on in your delivery! I appreciate all of your great efforts in making this event a huge success. I look forward to working with you again soon. THANKS SO MUCH!"  Liza from dynami.


Tom hosts the vSoft conference
Amy from VSoft says  "The feedback is in and you scored well!  4.53 out of 5!  You were second only to the Cooking competition.  You kept the energy and excitement going.  You're definitely a winning ingredient!"
Lise from Trollbeads Copenhagen, Denmark says "Host Troll Tom, You were a pleasure!"
Peter from Trollbeads Copenhagen, Denmark says "Thank you for a great  day! You put a lot of energy into the crowd and made it a special day for Trollbeads."
Terry Singleton from CCP Events says  "Tom was a pleasure to work with.  He did his homework about our client and their industry and effectively included their information along with the theme of the conference into his dialogue.  We give Tom our highest recommendation and would be pleased to work with him again."
"I have been to countless events you have hosted. But wow had I not seen this for myself, I would not believe it but on the finale episode in an audience of 404 guests at the Oprah Winfrey Show in front of countless VIP's Tom Sullivan, Atlanta's host, was plucked out of the crowd to co-host the pre-show. He brought more life & fun to the show, which was as stoked as any attendees could be. That experience showed me, above & beyond your amazing talent, that you indeed are natural born host! You bring it like no one else Tom, each and every time." Toren Anderson Media.
Suzanne from The Maverick Group says:  "We are all so grateful for the opportunity to work with you.  You did an OUTSTANDING job, and the client was very pleased.  We greatly appreciate your preparation for the event, your professionalism, and the humor that you brought to the event. "

Tom interviews nominees for corporate events video.
"Tom Sullivan is magnificent! He is unique in that he kept our event rolling, made everything seem like fun yet and stayed on message so that we were able to achieve all our fundraising and branding goals. I would recommend him in a heartbeat!"  Margaret, World Market Center, Las Vegas.
Dolly from Chris Kids says:  "Tom Sullivan is a superb emcee for any event. His engaging and dynamic personality holds the attention of the audience, while his quick wit enables him to ad lib, adapting to unexpected elements and interacting with the crowd. He is a quick study, and a sincere, eloquent spokesman."
Sheila from AGLCC says:  "Thank you for the OUTSTANDING JOB you did as our Emcee! You were wonderful to work with, arrived well prepared and familiar with our organization and ready to work.  Your great voice and wonderful personality were an absolute asset to our function.  We were fortunate to have you join us!"

Tom adlibing through an NBC Christmas corporate video

P. Morton from Americas Mart says:  "…Charming, Hysterical and Incomparable…the dynamic Mr. Tom Sullivan. Without your incredible ability to create interesting, unscripted "chat", the event would have been "just another awards show."  If a standing ovation were possible on letterhead, this would certainly be one."
K. Daniels from FOX TV: "As usual, you worked it!" I was amazed at how quickly you coordinated games to entertain the guests.  I look forward to working with you again!"
Jennifer Boozer from Buckhead Life Restaurants: "Tom Sullivan has been a terrific contributor to our annual Pricci Academy Awards Night party. His enthusiasm as an emcee adds tremendous excitement to the party, and each of the seven years we've worked together, he's been prepared and easy to work with. I would wholeheartedly recommend Tom to anyone needing an emcee to preside over an event."
J.P. McCann from GaMPI says "Another great hosting job! So great to go to an awards show that moves along and entertains.  Big props!!!"
Francoise of Chez Michou, Buzios Brazil says "Tom! We love you and your incredible energy!! You got the party going and kept engaging with the audience all night long.  It was our best night ever!"
Lisa from PINK Heals Foundations says: "…Your warmth and kindheartedness made our Pink Heals models feel instantly at ease…you have such an amazing spirit and energy…"
Robin from Las Vegas says:  "I won a whole lot of money because of you!  Your energy and enthusiasm for our brand helped us launch the most successful campaign this year!!"
Terrell S. says  "Tom Sullivan is a master at the spoken word! He has a true talent for tailoring his remarks to suit the event while incorporating his humor and captivating his audience. Tom's enthusiasm and passion for people is unrivaled."
L. Aman (New York Agency) says "Tom Sullivan did a fantastic job! Only someone of Sullivan's abilities could motivate our consumers."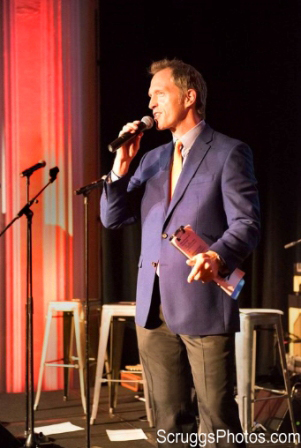 Jessica W. from Vexcom says: Tom Sullivan has the ability to make you feel like you are the most special person in the world! His excitement for life is contagious. He puts 110% into everything he does. He is creative and outgoing and was a pleasure to work with!"
Shannon H. says "Tom Sullivan is an amazing on air personality with a zest for life! His comedic timing is always on point and his interviewing skills are unsurpassed. Tom is a beloved Atlanta personality."
Please visit the contact page to book Tom for your event. Or, simply email Tom now:
TomSullivanHost@gmail.com