The motion picture "The Light Between Oceans" opens Friday, September 2nd in theaters and I attended a sneak last night.  Local Atlanta author Emily Giffin was on hand to show support for fellow author M.L. Stedman who wrote the New York Times best selling novel.  This is Stedman's debut and Steven Spielberg's Dreamworks picked up the movie rights.
Atlanta & Company viewers can WIN 4 passes to a sneak of the movie before it opens on Sept. 2, 2016.  Here's how to win:
WATCH:
Atlanta & Company on Thursday, August 25, 2016 at 11:00 a.m.  Tom Sullivan will reveal a code word for you to enter with. Then,
EMAIL:
**tomsullivanhost@gmail.com
**Put code word and your contact phone number in email
**YOU MUST PUT WORD "OCEANS" IN SUBJECT LINE OR ENTRY DISQUALIFIED. **
Winners notified of day/time of screening and names will be on guest list.
PRIZE:
TWO Atlanta & Company viewers will receive four tickets each to attend the screening!
No purchase necessary to win.
RULES:
**Contest conducted by "Tom On Air" and not Atlanta & Company
**Winners notified Friday morning before 10:00 a.m. (08/26/2016)
**Winners must respond 24 hours after email notification or another winner chosen
**ENTRIES accepted through Thursday, August 25, 2016 11:59 p.m.
Thank You for watching Atlanta & Company and visiting Tom Sullivan's website!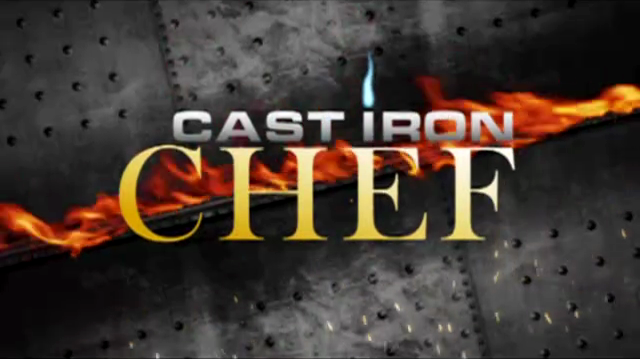 The concept is simple: A 5 Star Chef takes on a Short Order Cook.  The prize? The Gold Iron Skillet!!

Still hungry for more? Newly renovated and an Atlanta tradition!
I was honored to Host and Emcee the annual DIVA event at Americasmart Atlanta.  Our special guest and co-host that year was Donald Trump's former wife Ivana Trump.  Ivana was joyous and so much fun to work with.  I walked on stage to greet her reading her book aloud, pulling out key funny moments as she described her divorce from "The Donald."  She laughed and applauded!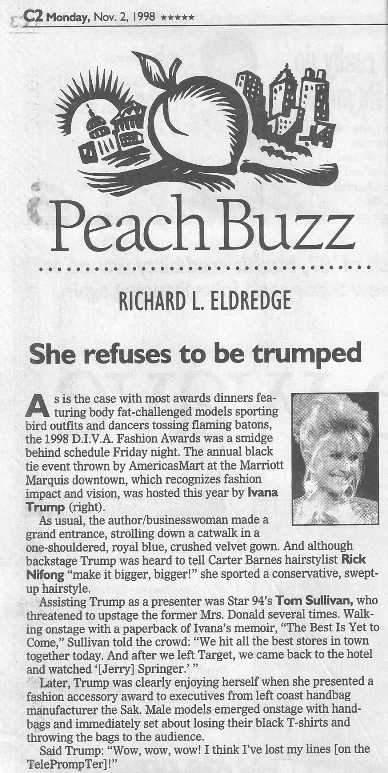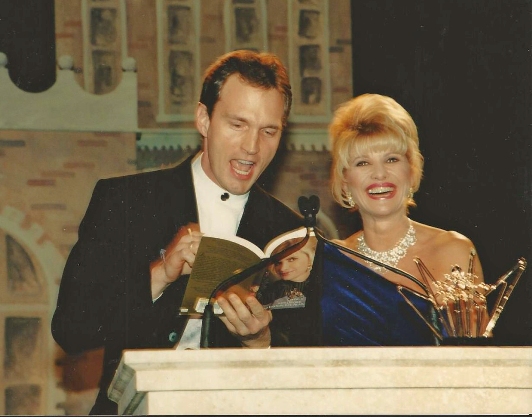 Thank You to Pam Morton, Ivana Trump and the team at Americasmart for the opportunity to represent their brand year after year.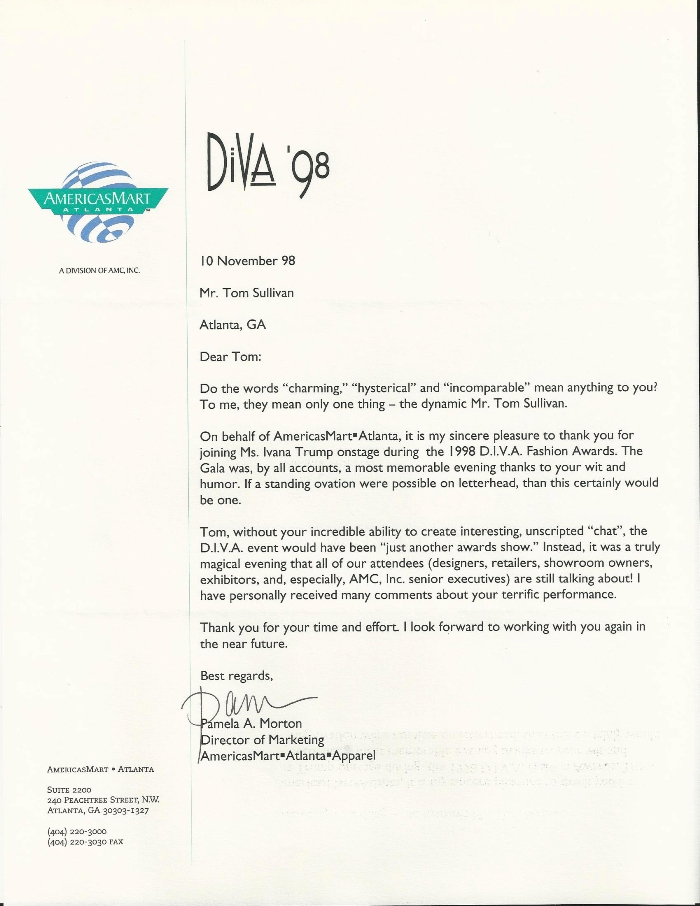 I met this Diva just before she released her first album at a private party!

It was an exhilarating  July night that I sat in the Olympic stadium for Opening Ceremonies of the 1996 Summer Olympic Games.  Celine Dion performed "The Power of the Dream" with David Foster on keyboards, The Atlanta Symphony Orchestra and Centennial Olympic Choir consisting of Morehouse and Spelman College Glee Clubs.  I personally feel this song is the triumph of the human spirit.  The lyrics "…there's so much strength in all of us, every woman child and man.  It's the moment that you think you can't, you discover that you can!  Feel the flame, teaching lessons we must learn, it is the Power of the Dream that brings us here…"

I returned to the now "Turner Field" for the last time to watch our Atlanta Braves but this time was different!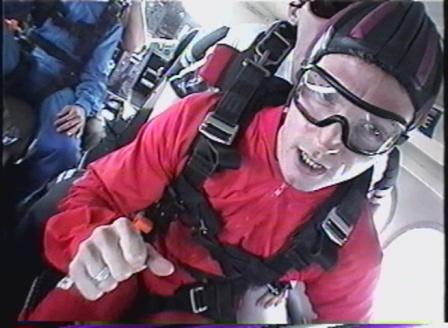 While working at Star 94 FM radio here in Atlanta, we conducted a contest called "Live in it and win it!"  Whoever stayed in the car the longest won the car.  You had to sleep in the car too!  As a "get out of the car for a hotel room" challenge, anyone who agreed to skydive could sleep in a hotel room and shower for the night.  I accompanied the contestants to Skydive Atlanta to record the adventure.  While there I noticed that my friends Gabriel and Neleh from Survivor had also jumped.  As a five time semi-finalist for Survivor, I knew that I could make the jump too!  I considered it my "immunity challenge" and suited up.  Wendell strapped to my back and Woody my video guy held on in front of me to capture my reaction.  Watch as the person ahead of me jumps out of the plane and see my face fill with fear and at that moment I felt like I was going to get sick and pass out.

Because the air was so stagnant and thick, we had a rough landing.  My coccyx bone was bruised and made sitting down for 2 days difficult.  I'm glad that I accomplished this goal and am happy to never do it again!
Skydiving got you hungry? Chow down here!
---