I was delighted to be invited back again as one of the judges in Bodies As A Work Of Art which was held in The Pilot's Country Club at Peachtree Dekalb Airport.  I landed and immediately had my buddy Eric prepare my favorite Grey Goose Vodka Drink!

Now in it's 3rd year, talented artists are given a time frame to completely paint their models body from head to toe and any style they want.   There was some amazingly beautiful art on display!!
The Overall Winner of $1,000 from The Chelko Foundation.  Truly amazing work of art…and what a canvas!!

John as The Transformation from ashes to the clouds

Model Logan with artist E. Vincent Martinez
Dancer who performed during show
The very entertaining Mara Davis once again worked the runway as only she can!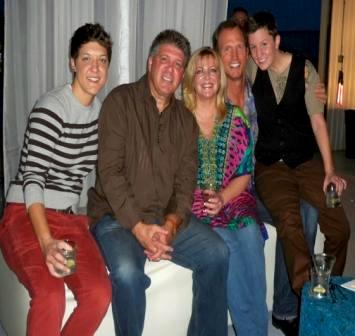 Lucy, Mike, Vikki, Tom, Jessica
WINNERS ANNOUNCED!!
The End.
I read this blogpost recently on Succeeding in business and loved it so much wanted to share it with you:
"Sheep and cattle have to be handled differently. Sheep require tending. They need clear boundaries for their own protection, not to mention the shepherd's potential loss if they are devoured by a wolf or fall off a cliff. Cattle do just fine when they're given good grazing land and left alone. What's the point? To fulfill your dream, you must "know" the people you work with. Whether they're partners or patrons, bosses or colleagues, clients or constituents, customers or critics, people need to be identified and managed according to their talents and their temperament. So what kind of people belong on your team? John Maxwell writes: "Some people have a dream but no team—their dream is impossible. Some people have a dream but a bad team—their dream is a nightmare. Some people have a dream and are building a team—their dream has potential. Some people have a dream and a great team—their dream is inevitable." Moses needed Joshua; Naomi needed Ruth. The idea of the self-made person is a myth. Whether they acknowledge it or not, all successful people had help along the way. Only when you can admit that you need help, will you begin looking for it. And that's a crucial step in achieving success. The next steps are knowing people's strengths, communicating your vision to them in such a way that they buy into it, bringing out the best in them and rewarding them. Chris Hodges says, "A dream is a compelling vision you see in your heart, that's too big to accomplish without the help of others."
Read more from this blog HERE.
Need a little more encouragement? Find it HERE.
It was an early spring evening in 1990 and Columbia records was rolling out the red carpet to celebrate their newest artist, Mariah Carey.  The exclusive party was held at Carbo's Cafe Upstairs.  Open bar with top shelf liquors and a smorgasbord of food all entertained the crowd until the curtain opened and an introduction of  Mariah.  Dressed in her signature black body fitting dress, she stood on stage with a couple of backup singers and a piano.  She began with her smash "Vision of Love" and at that moment I was taken with that incredible sultry, smooth voice as it touched on all 5 octaves which led to the first of many standing ovations.  I remember walking up to her in my Z Cavaricci pants and  Gerbeau dress shirt feeling so cool and posing for the picture taken by Atlanta's own Rick Diamond.  I don't know who had bigger hair, me  or Mariah!  Even a little chest hair  showing!  We could have gone out on the town.  (We did in my dreams) I thanked her for taking time to perform for us and sign autographs because I knew she was going to be so big that I'd never get the chance to meet her again.  (I did about 10 years later at a Star 94 interview with Steve and Vikki.)  The rest is history.   So, Thank You Mariah for that great moment.  Just one of many I experienced during my time at Star 94/WQXI radio.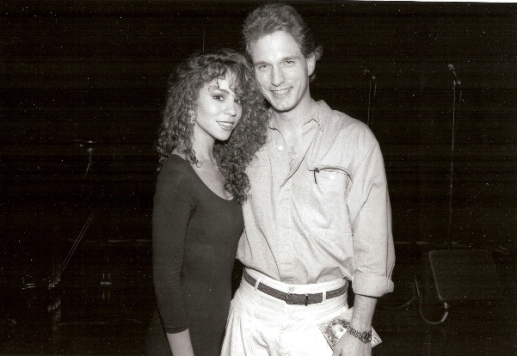 One of my favorite Christmas songs by Mariah makes a big splash at sea HERE!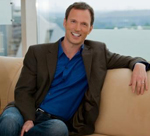 Emcee, your master of ceremonies or M.C. all mean the same thing.  (Why write out Master of Ceremonies when MC is so much easier, right?!)  Well when clients contact me looking for a Host and M.C. for their event, they usually have searched online spelling emcee or with the shortened M.C. or MC.  A client in Las Vegas found me through a google search and referenced me as M.C. while another in New York inquired about me for their event as their event emcee.  A client in Chicago hired me as their Master of Ceremonies.
I did have a client looking for a motorcycle club and searched Atlanta M.C. and got me!  I appreciate that reference even though I don't own a bike.  (But I always wear a helmet!)
So whether you're searching with google, dogpile (try em!), yahoo, aol, ask, or Bing,  I am grateful you found me.  I look forward to hosting your next corporate event.  As your M.C., Emcee or Master of Ceremonies, I'll make sure the outcome is just one way-Successful.
Come fly with me to The Big Apple!
My friend Chef Patric Bell recently posted to facebook some delicious looking pics of his creations at Cruzado Cuban Restaurant located on 5th street downtown.  I love that this restaurant is actually tucked away in an established Atlanta neighborhood.  When we arrived around 6 p.m., the neighborhood was alive with people walking their dogs, riding their bikes and enjoying themselves.
I started off with a custom Mosquido (like a Mojito but made with wine.)  It was gone quickly so please bring another one E! Refreshing and perfect.
I wanted to have as much culture as possible so my friend Cristy (from Cuba) joined me and ordered for the table.  (She'll read this and then tell me what I was eating but all I know is it all tasted fantastic!!)
I love this Cuban sandwich! One of the best I've had!
The crumbled bacon on this dish with green beans was my favorite!
Pair it with Cruzado's great black beans and the marinated sliced onions are perfect addition.

Add some hand cut Yuca fries served hot!
Make sure you ask for the homemade Cruzado hot sauce!
Fresh mango pie.  Thank you sir, may I have another?
And try the Tres Leche cake…
It's a great neighborhood dining spot.
So escape to Cruzado for a taste of Cuba.
Ready to go on a culinary tour?
Tom Sullivan is a Television Host and Corporate Emcee based in Atlanta Georgia. Tom annually hosts Taste of Atlanta "Chef's Table" where he shares his love of food with local Chef's.
---