Wednesday, March 29 2016, join us at The Punchline Comedy Club (in their new Buckhead location!) This benefit for the SHARE Military Initiative at Shepherd Center features Professional Ventriloquist John Pizzi and Gilbert Gottfried! Tickets are a beneficial $125 each which will truly help our Military men and women. The SHARE (Shaping Hope and Recovery Excellence) Military Initiative began in 2008 in order to provide a continuum of rehabilitation care for soldiers who have sustained a spinal cord or traumatic brain injury while serving the United States on active duty in Iraq or Afghanistan. The SHARE program typically treats 8-10 individuals at a time and the average length of stay in the program is approximately three months.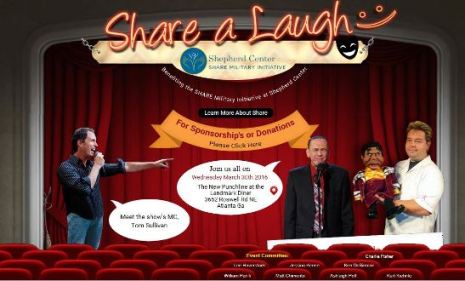 Viewers of Atlanta & Company can win a table for four! To enter, simply email your: NAME, PHONE NUMBER and the words SHARE in SUBJECT LINE to: [email protected]
One winner will be chosen at random and notified Wednesday by phone at 1 p.m. You must be able to answer your phone during the time of 1:00 – 1:10 p.m.
Thank You for watching A&C and for visiting my website. And if you don't win, please consider supporting this great initiative for Shepherd Center by coming to The Punchline Comedy Club Wednesday night at 7:00!