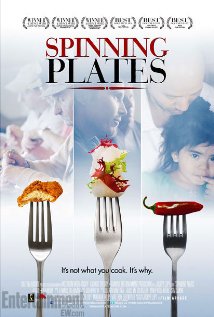 Spinning Plates the movie is a culinary journey through the kitchens of 3 separate restaurants. One of the best restaurants in the world, another that is built on community, love of the locals and the third is a loving couple following their dream. If you love the dining experience in all forms like I do, then Spinning Plates will wet your appetite to get in the kitchen!
The main course in the film is the musical score. Ed Shearmur composed a delightful treat for the ears that is served up throughout the entire movie. The essence of each chef and restaurant is cooked to order through Shearmur's culinary compositions. The emotional involvement as viewers to this amazing documentary is a feeling of complete satisfaction as to having enjoyed the best dining experience ever.
Grab a glass of your favorite wine, prepare a fabulous dinner, turn off the cell phone and give 100% of your mind to Spinning Plates. 5 Stars!
Fork HERE for something you can really sink your teeth into!!
Tom Sullivan is a Television Host and Corporate Emcee based in Atlanta Georgia. Tom annually hosts Taste of Atlanta "Chef's Table" where he shares his love of food with local Chef's.