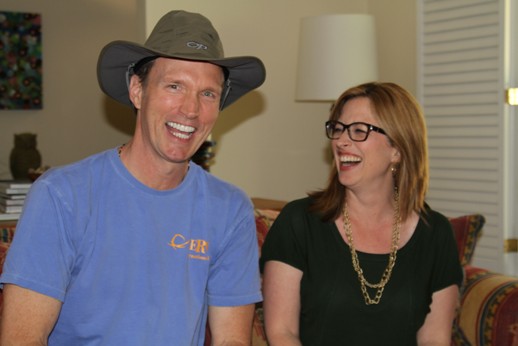 I'm excited to be going on my first mission trip with SERV International to Kenya Africa this fall. The team at SERV has told me just how hot conditions are so I've been buying my favorite clothing brand "Ex Officio" on ebay to save money. Recently I ran into a problem where the item was "not as described" which ended up becoming a story for the Fox 5 iTeam. Reporter Dana Fowle decided to see just how I was able to overturn a case with ebay in this "David vs. Goliath" story.

My first mission trip to Dominican Republic is here with a 4 minute video of my favorite pics. #Grateful.
Here is the transcript of the story:
ATLANTA –
For decades, Atlantans have woken up to Tom Sullivan on their radios. But you might not know that he's also somewhat of an expert eBay seller, and he's got quite a story to tell.
Sullivan has been an eBay seller—and buyer—since the mid-90s. He knows the ins and outs of what works and what doesn't, and he recently had a case where the seller, he says did him wrong. But he fought back.
"It drained me," Sullivan said.
The long-time radio and TV host is terminally upbeat, but he's not afraid to throw his hand up if he thinks he's been had. Which brings us to Tom Sullivan's side job: buying and selling on eBay. He's been active on the online auction site since 1998, to be exact.
So, when he was planning a mission trip to Africa, he knew just where to turn for two weeks worth of expensive, sun protection clothing. He wanted pants that retail for $80, but on eBay, they were being sold used in an ad that said they were in "very good condition." At $15.99, Sullivan said they were a steal.
Sold! He snapped them up. But he later complained to eBay that what was advertised and what arrived were two different things. Sullivan said the pants he received were "grossly not as described."
"They had three pin holes in the right leg," Sullivan said. "They were missing a button, the middle button. There was no drawstring as advertised."
In a note, Tom asked for a "partial refund." The seller said no. It escalated. The Washington state seller accused him of "buyer fraud" and "extortion," claiming the pants had zippers not buttons, and that he never claimed there was a drawstring.
"I said, this guy is really out of line, so that's when I cut them off from talking to them and opened a case," Sullivan explained. "And the minute you open a case, you don't have to talk to the seller anymore."
eBay's resolution department had pictures that show a missing button, and the seller's ad that in fact does says there is a "drawstring." Case closed? Yes. But not the way you'd think.
"I came home, got online and saw the case is closed in the seller's favor," Sullivan said. "Sorry it didn't work out."
Sullivan, who is also a part-time emcee, used all of that energy he uses to gets crowds on their feet to push back. If you haven't been on eBay in a while, you can actually call and get someone on the phone!
"It rings, 'Hi! This is Destiny,'" he explained. "I thought, this is a good sign."
And it was. She reviewed his case– right there while he was on the phone– and make a quick decision.
"We actually made an error and closed the case too soon. So, we're going to overturn this case in your favor," Sullivan said, describing their response.
And just like that he got his money back. He is convinced that it helped that his emails remained business-like and never personal, never any name-calling.
"It's like David versus Goliath," Sullivan said. "Here I am! Triumphant against a big faceless giant like eBay."
Sullivan says before you bid on eBay, you should ask every question to the seller that you can think of. That way there are no surprises on either end. And, he says, no matter how ugly the other person gets, don't go there. Keep it professional, even if you're furious, because in a dispute, eBay goes back and examines all of the emails. You want to be the good guy in their eyes.