Wednesday, March 29 2016, join us at The Punchline Comedy Club (in their new Buckhead location!)  This benefit for the SHARE Military Initiative at Shepherd Center features Professional Ventriloquist John Pizzi and Gilbert Gottfried! Tickets are a beneficial $125 each which will truly help our Military men and women.  The SHARE (Shaping Hope and Recovery Excellence) Military Initiative began in 2008 in order to provide a continuum of rehabilitation care for soldiers who have sustained a spinal cord or traumatic brain injury while serving the United States on active duty in Iraq or Afghanistan. The SHARE program typically treats 8-10 individuals at a time and the average length of stay in the program is approximately three months.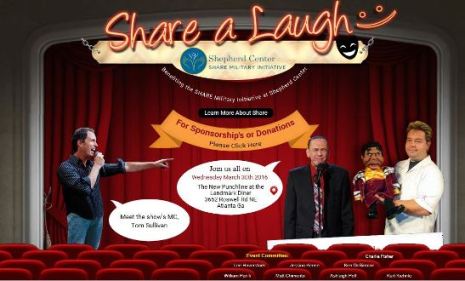 Viewers of Atlanta & Company can win a table for four!  To enter, simply email your: NAME, PHONE NUMBER and the words SHARE in SUBJECT LINE to: tomsullivanhost@gmail.com
One winner will be chosen at random and notified Wednesday by phone at 1 p.m.  You must be able to answer your phone during the time of 1:00 – 1:10 p.m.
Thank You for watching A&C and for visiting my website.  And if you don't win, please consider supporting this great initiative for Shepherd Center by coming to The Punchline Comedy Club Wednesday night at 7:00!
WELCOME VIEWERS OF ATLANTA & COMPANY! Keep reading to enter contest of dinner for 2 Academy Awards Night at Pricci!
I always look forward to the annual Oscar party at Pricci.  Red carpet, bright lights, paparazzi, 4 course movie themed dinner, Hollywood cocktails, photos with your fav. celeb, VIP Green room lounge with big screen TV where everyone can relax. And watching the Academy Awards on big screens throughout Pricci means every seat is a good one! (Our sound crew brings in speakers and places them throughout Pricci to ensure you can hear all the red carpet moments and excitement of the show!)  During the commercial breaks I give away movie related prizes and Buckhead Life Ultimate Dining cards.  Plus, everyone is eligible to win the "Best Picture" official one sheet movie posters dry mounted and ready to hang throughout the night, along with other various movie prizes. Join me for the fun Oscar night at Pricci!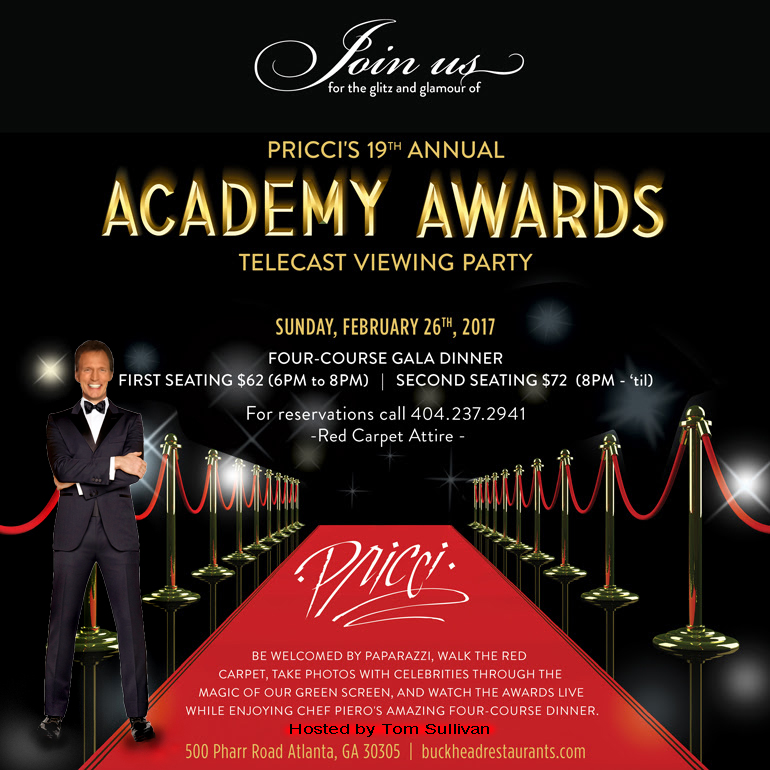 My buddy Ryan used to get my pizzas but perhaps you saw him on the red carpet covering the Oscars!
WIN DINNER FOR 2 Oscar Night (Sunday Feb. 26, 2017) at Pricci just by watching 11 Alive's "Atlanta & Company" this week!
Watch for Tom Sullivan at the start of the show during the "It's All Good" segment.  Tom will reveal a movie poster.
*Email the name of the movie and phone number to: tomsullivanhost@gmail.com
*you MUST Include word "PRICCI" in subject line or entry not populated in final search from entry emails.
*Daily winner will receive the mounted movie poster shown on TV during that day's segment.  (Mounted poster must be picked up at 11 Alive studios Monday-Friday 8:30 a.m. – 5:30 p.m. Prize must be picked up by Friday, March 3rd, 2017 or prize forfeited.
*Contest runs Monday Feb. 20-Friday, February 24th, 2017
*all entries are eligible to win grand prize!!
*Grand Prize Winner selected Friday (and announced on show if time allows.)
*Dinner for two is for the 8:30 p.m. seating so arrive a little earlier and enjoy a beverage at the bar while watching the awards or relax in the Pricci VIP room and enjoy the red carpet arrivals!
*Alcoholic beverages and gratuity not included.
Good luck and thank you for watching Atlanta & Company!