I was totally wowed by award winning Chef Debra Desaulniers in 2000 when I attended an event where she had designed place mats out of pasta, beans, and candy.  I've always remembered that great idea so at a recent dinner party decided to give it a go.  Organic (not that it matters) split green peas!  Take a look at the finished table.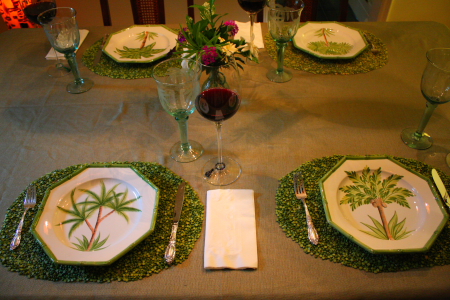 Afterwards, have a contest for your guests to create the best design based on a theme.  All four of these are winners!!
When you're done, simply store the peas in a container for your next party! Or, rinse and cook until done.   Experiment with all kinds of objects for your creative table top design.  (designs by Troy.)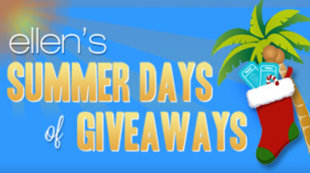 So Christmas came a lot earlier this year when last month during a hot July day I received a call from The Ellen DeGeneres Show!  "Hi Tom, this is ___ from the Ellen DeGeneres Show."  My first reaction was contained excitement.  "Please call me when you get this message…."  Of course I IMMEDIATELY called and left a message and when she called back I got the incredible news!  "We loved your picture and what you wrote so you're a winner!!"  I was hoping she was referring to 12 Days of Giveaways but I had to ask her (I enter a lot of Ellen's contests)  and when she said 12 days I was like a kid seeing Santa for the first time!! (Good thing there were no camera's rolling.)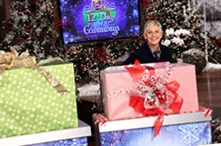 So 2 tickets to the Christmas taping in December with hotel and airfare all included.
I went into my basement, put on a red shirt and stuck my head in a wreath.  Snapped a picture and emailed it to the show to say thanks and Ellen tweeted it out to her 13,000,000 plus followers!!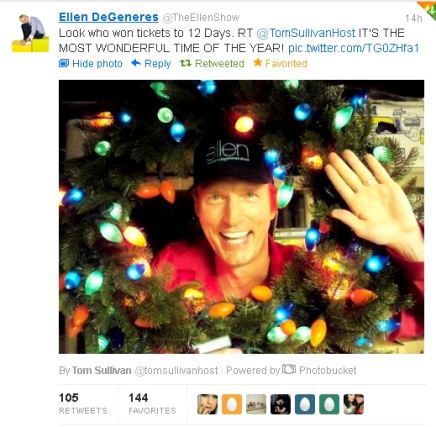 Getting to see Ellen in person will be awesome (and of course helper elf Andy!)  And the prizes? Well that's icing on the cake.   I'm so grateful for this incredible opportunity!! Thank You Ellen! (Santa.)
***************************************************************UPDATE!**********************************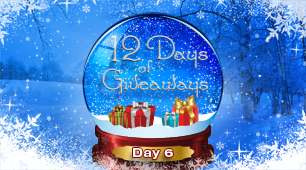 Just returned from Los Angeles where we attended Day 6 of Ellen's "12 Days of Giveaway's" and it was true accelerated Joy!"  From the moment Tom the warm up guy got us up and dancing until the end of the show, we laughed and danced and celebrated all that is Christmas.  "Have a little Fun today" was an understatement.  We had a BLAST!
You can WIN Ellen's 12 Days of Giveaways HERE every day!! AND win ALL the prizes from ALL 12 days starting December 19th!! click HERE!
Did you see me on Oprah?

Michael Phelps now endorses Louis Vuitton picking up even more gold–ca ching!
I recently was invited to a tour of CHG (Castellucci Hospitality Group) and sample their restaurants: Double Zero Napoletana in Sandy Springs, Sugo  in Roswell and John's Creek, and The Iberian Pig located in Decatur.   I was excited because I had never dined at any of these restaurants and looked forward to trying them.  First up: Double Zero.  The name comes from the grade of flour used.

The crust was fantastic and since I love bread anyway could have just eaten dough and been happy.  I love the charred edges on a pizza from an 800 degree Italian oven!
And this was a first for me–you cut the pizza with scissors!!! Actually worked really well.
Ready for a twist on a salad?  Try something that I actually loved as a child and still do: Brussels Sprout salad! Shaved raw Brussels sprouts with candied walnuts, Grana Padano cheese served with a preserved lemon and dijon mustard vinaigrette was a meal in itself. 
Next stop on our tasting tour was Sugo.  My favorite item of the entire day is served at Sugo and is such a favorite there you'll pretty much always find it on the menu.  The Meatball Al Sugo is absolutely delicious.   A Sugo specialty sausage meatball stuffed with roasted tomatoes and dates then dressed with tomato basil sauce and carmelized onions served in a small iron dish.  Perfect!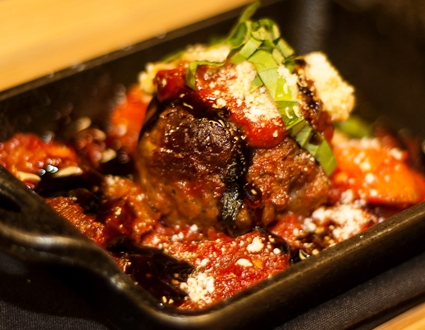 I also consumed many of the Bacon Wrapped Dates stuffed with walnuts and served with a Romesco dipping sauce.
Next stop was The Iberian Pig featuring the item voted best taste at Taste of Atlanta: Pork Cheek Tacos!  Slow roasted pork cheeks, fire roasted corn salsa, avocado crema, arugula and fresh lime.  Score!
There are so many great menu items from all 3 of these wonderful restaurants that I didn't mention or have yet to try but that's all the reason to return!  Now to decide which one.
Expand your taste HERE.
Only a handful of restaurants really impress me enough to make it onto my blog and Century House Tavern in Woodstock is one of those great finds!
The Hubbard House,  a beautiful home built in 1894 in quaint, historic downtown Woodstock.  I immediately loved the atmosphere…large expansive beautiful trees shading diners and the like enjoying Chef's creations while inside the warmth of  a neighborhood tavern were all so inviting.  I very much like that owners stayed true to the historic roots of the beautiful property.
The evening we were there, dining on the outside porch, a cool breeze brought smiles from the summer heat while we enjoyed delicious by the glass wines from a very reasonably priced wine list I might add!  We loved what the culinary team prepared for us.
I recommend the Roasted Beet Salad with Gorgonzola, balsamic vinaigrette, pickled onions, pecans and Mache…fresh herbs from the garden behind the restaurant.  Delicious!
I especially enjoyed the Alaskan Halibut Medallions served with Baby Bok Choy, Herbed Orzo in a lemon caper sauce.  (ask for some bread to dunk up the sauce, ya'll!) For dessert I fell in love with the tasty Black Rice pudding.  Try the homemade sorbet for a lighter refreshing treat!
Stop in for dinner or enjoy turn of the century cocktails with recipes that date back to the late 1890's!   We're planning many return visits including a cozy Chef's table situated overlooking the railroad tracks under the towering Oaks.
Ready to experience Atlanta's best Taste?
Food and interior photos courtesy Christopher Hornaday Photography.
Some exterior shots courtesy Atlanta.Eater.com
---