Ryan just signed another 3 year deal with Clear Channel communications for a reported $60 million dollars.  I remember when he worked at Star 94 answering my phones, getting my pizzas and pulling my music off the wall.  Oh those were the days.  Read more on the deal here.
I've been to Discover Mills Mall (up 85 north near Sugarloaf) before but never stopped into Bass Pro Shops "Outdoor World".  Maybe I was sure there was nothing inside that would interest me or thought it was all fishing and hunting stuff which I don't really need.  BOY WAS I WRONG!  2 hours later I left with a shopping cart full of clothes and Muck Boots (perfect for rain, mud, winter….)  The building itself is like a log cabin on steroids and walking into the "lobby" is awe inspiring.  An employee motions me to please walk this way into the store through the turnstiles into the land of Bass.  Since this was my first visit they handed me a map.  I shoved that in my pocket and immediately started drooling over all the apparel I would ask Santa for and some I had to buy immediately!  "Red Head" is the private label for Bass Pro Shops and I must say I was really impressed with the design and quality.  In addition, the prices were less than other sporting goods retailers.  Could it be that because they buy and sell in mass quantity the prices were lower?   On Black Friday alone, more than 24,000 customers shopped Bass Pro Shops Gwinnett location!! On Saturday, more than 16,000 customers and Sunday was a little off–only 11,000 customers strolled the aisles…climbing the rock wall, looking at the massive aquarium, trying on any of the hundreds of pairs of shoes and boots or simply taking the kids to see Santa.  I love this place and now I'm hooked!
Another store at Discover Mills that has some great deals is the Sears Fashion Outlet.  Now, don't expect a lot of frills but you'll find the thrills in all the great deals.  Sheet sets from Lands End were priced at just $34 King, and all clothing was $7.00 or under! Names like Dockers, Arrow, Southpole, Structure, Lands End, Canyon Creek and more all fill the racks and walls in no particular order.   Craftsman thermal underwear normally $26.00 were just $6.    All merchandise carries the Sears money back guarantee and Land's End merchandise guaranteed, period.   Merry Christmas!
I've been listening to this c.d. since I received it in October!  As a matter of fact, I purchased 8 copies from Buckhead Church bookstore!  Please note I said purchase!!  This album is the best representation of Christmas to come along in years.  Lyrical and musical arrangements take traditional songs and elevate them to a new level.  Listen to samples here (but you only hear :30 seconds and often times not the core piece of the song.)   For example track 2 "All Creation Sing (Joy to the World) sung by Seth Condrey is amazing!  The itunes :30 second clip is only of music and you don't even hear Seth's amazing voice.  Seth sings "…all of Heaven and all Creation sing the wonders of his love…"  The song just soars!  Track 9 "Hark the Herald Angels Sing" sung by Eddie Kirkland  is my ringtone!  When Eddie breaks into "…Glory to God in the Highest…" it's pure Eddie with very little instrumentation behind him -I get chill bumps!  Track 8 "Angels We have Heard on High" sung by Casey Darnell is a rhythmic celebration!  Casey has a voice that is like opening a holiday gift.  Just recently Christmas came early with Chris Cauley (who was out of town when the North Point Christmas album was recorded earlier this year) performed with Casey Darnell during the 9 a.m. worship service at Buckhead Church.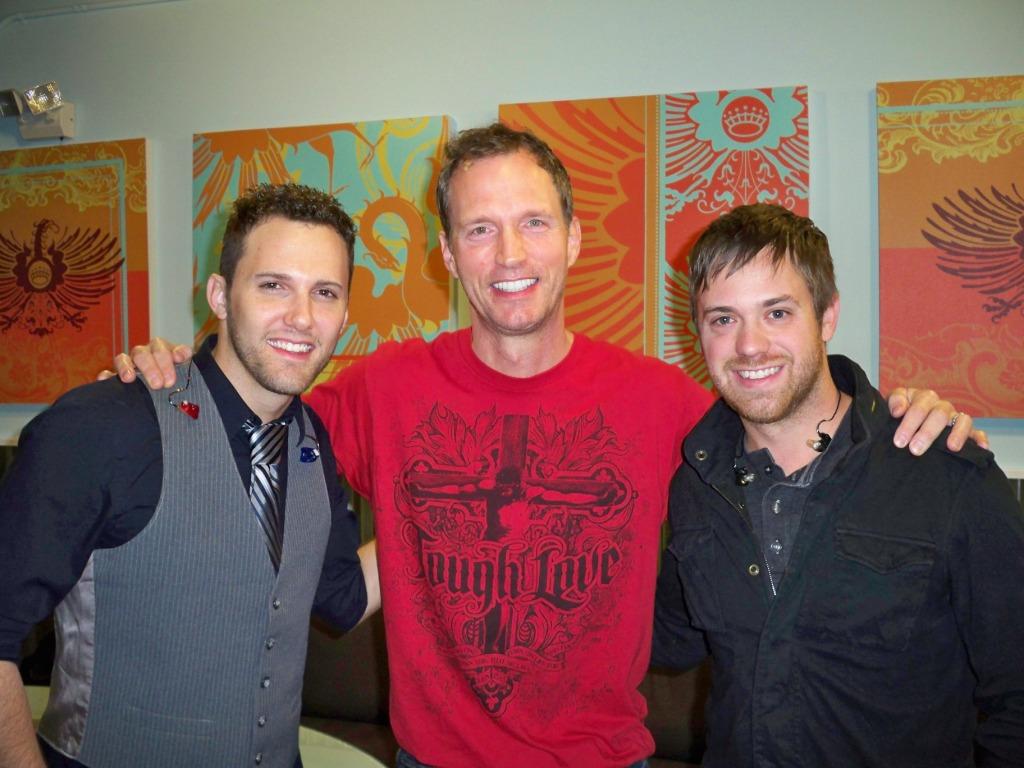 Track 10 "Silent Night" sung by Mandy Joe Miller is pure Mandy.  I love her style and interpretation of this holiday standard.  Track 1 "Do you Hear" sung by James David Carter is not what you might have heard during the holidays.  This version sets the mood and feel for the entire album:  a joyous holiday party!  You can purchase the album on itunes, North Point Community Church or any of their satellite locations.
Thanks to Senior Pastor Andy Stanley from North Point Community Church and Senior Pastor Jeff Henderson from Buckhead Church for spending time with me this past Sunday.  Congratulations to Jeff for accepting the mission of starting the new Gwinnett Church location in 2011!!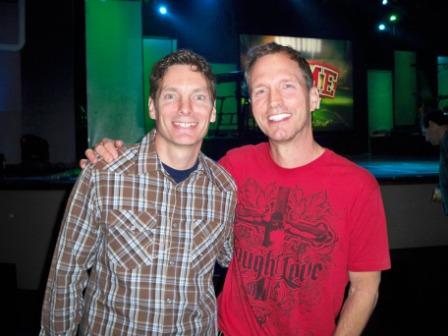 Come to Buckhead Church and hear these songs performed live during the holidays.  You'll be unwrapping the best gift.
New to Buckhead Church?  You may enjoy my first visit here.
I love the segments on Ellen where either Dennis Quaid wears a hidden earpiece and repeats everything Ellen says in his ear to whomever.  David Beckham wanted to give it a try–on a massage therapist!  Watch!!
I've always dreamed of sitting in the Oprah audience and wondering what it would be like to win all of her favorite things.  Today, Oprah saved some of her best giveaways for her final season, revealing a 3D Sony Bravia TV, a diamond encrusted watch and 7-day cruise as some of her "Ultimate Favorite Things" during Friday's show.
Oprah  surprised an audience filled with screeching men and women–who she calls  her ultimate viewers because of their dedication to give back to the community–with a special performance from the Black Eyed Peas and some of her favorite picks:
Phillip Stein limited edition Oprah 25th anniversary watch with 58 handset diamonds ($2,475) (who will be the first to put theirs on eBay?!)
Flannel Tory Tote ($250) and Reva Ballerina Flat ($195) by Tory Burch
Nikon D3100 Digital SLR camera ($700)
Cashmere sweater by Ralph Lauren and throw ($498)
Judith Ripka eclipse earrings ($525)
Oprah hair stylist Andre Walker's shampoo and hair kit ($65)  (nice of her to help him out!)
Lafco House candle set ($55 each)
Breville panini press from Williams-Sonoma ($100)  (Oprah bought 22 of these as personal gifts!)
Kyocera ceramic knife ($75)  (Oprah said her only knife in the kitchen.)
Beecher's handmade mac and cheese
Baker's Edge brownie and lasangne pans/Ghiradelli brownie mix (Oprah loves an edge on her brownie.  The audience went wild!)
"A Course in Weight Loss" (now that's funny!)
"Decoded" by Jay-Z  (Oprah said this helps her understand Hip Hop.)
5-year Netflix membership
52-inch 3D Bravia Sony television ($3,600)  (Everyone in audience put on Sony 3D glasses before she gave it to em.)
Sony Blue-Ray player and movie collection
Kiva gift card courtesy Groupon
elfa custom-built Container Store closet ($1,000)
"O" Store long-sleeve v-neck T-shirt ($38)
Lululemon drawstring pant ($98)  (Oprah said any pant that cuts your butt in half was a favorite thing!)
Four pairs of Nike "Free run +" shoes ($85)
7-day United/Royal Caribbean Allure of the Seas cruise
A not so favorite thing is the 1099 each audience member will receive for all those things, favorite or not.
For the first time in show history, Oprah will surprise a second audience, (who actually think they've missed getting into the show),  with all of her favorite things during Monday's show.  Word is her biggest EVER Favorite Thing will be revealed.  Josh Groban and Johnny Mathis also perform.
Another of my favorite things here!
***Part 2 update!***
What a show!  Oprah unloaded her sleigh on Monday with part 2 of her Ultimate Favorite Things and it was the ultimate giveaway!!
The full list of items:
iPad ($499)
'Classic Sparkle' Ugg Boots ($170)
Patent Leather Coach 'Sophia' Satchel ($399)
Magaschoni Cashmere Sweater With Leggings ($200)
Hope In A Jar moisturizer ($39.99)
Two $500 Gift Cards For Nordstrom's Lingerie Department
Prepara Herb Savor ($29.99)
Centerville Chicken Pie ($20)
Garrett Popcorn In A Special Oprah Tin
Custom Le Creuset Cookware Set
Miraclebody Jeans ($100)
Sophie Jewelry Box From Pottery Barn ($179)
Dana Rebecca Jessica Leigh diamond earrings ($2,640)
$100 Donors Choose Gift Card
Williams-Sonoma Mini Crossaints ($40)
Custom Talbott's Tea Set
'The Book Of Awakening' By Mark Nepo
'Let It Be Me' CD By Johnny Mathis
'Illuminations' CD By Josh Groban
2012 VW Beetle –YES a new CAR!!…you get a car, you get a car!!!!
Merry Christmas and may you receive all your favorite things, ultimate or not.
---