With Christmas this week it's time to hop on The Polar Express. Childhood dreams are what this Christmas is all about to me. I loved The Polar Express and had the chance to see it in 3D at Regal Imax Mall of Georgia. It was amazing. Everything came to life on that 5 story screen. Wouldn't it be great to wake up and have that huge train pull up on your snow covered street? It will …if you just

I'd have one of those delicious Hot Chocolate drinks…and then once I arrived I would want to see all the Elves making toys….I'd ask Santa for that small bell that only people who truly Believe can hear ringing.
What are you looking forward to this Holiday?
Get into the Christmas Spirit!
(did you click on Believe?!)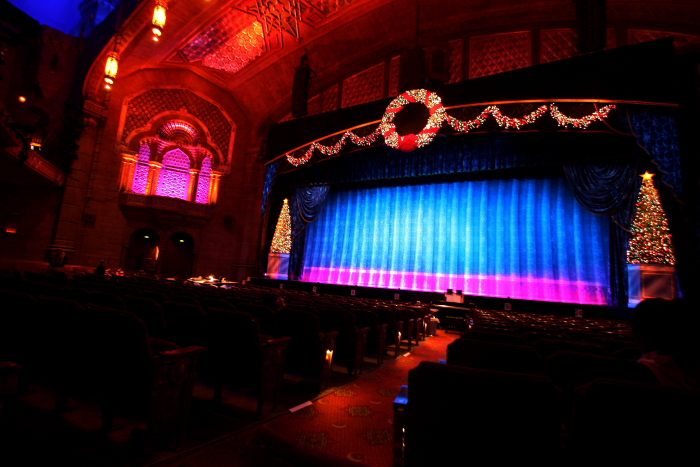 I had the honor of attending a private full dress rehearsal for the Radio City Rockettes as they prepared for opening night of the Radio City Christmas Spectacular.  I love this show! Being huge fan of Christmas and the holidays, I found myself smiling ear to ear as Santa and his sleigh made an entrance with of course his tiny reindeer Rockettes leading his sleigh!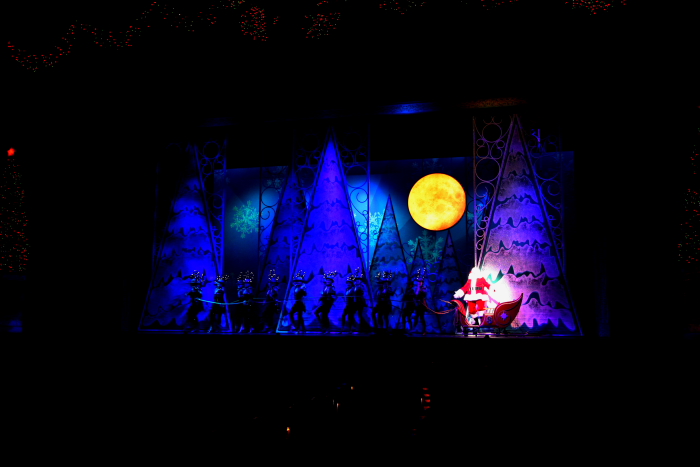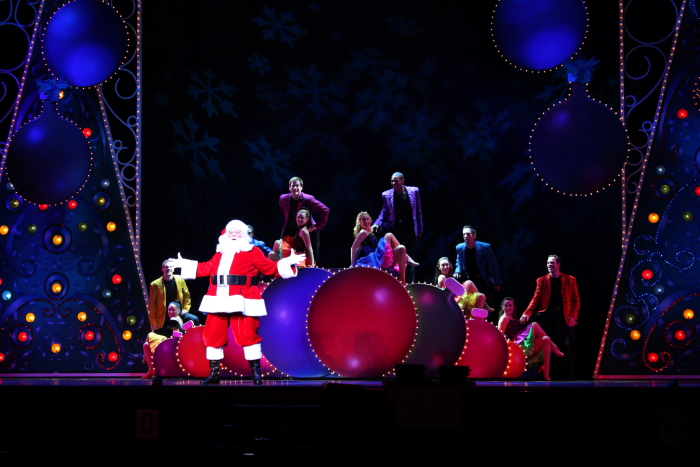 And then the unveiling of the world famous Radio City Rockettes and those incredible legs!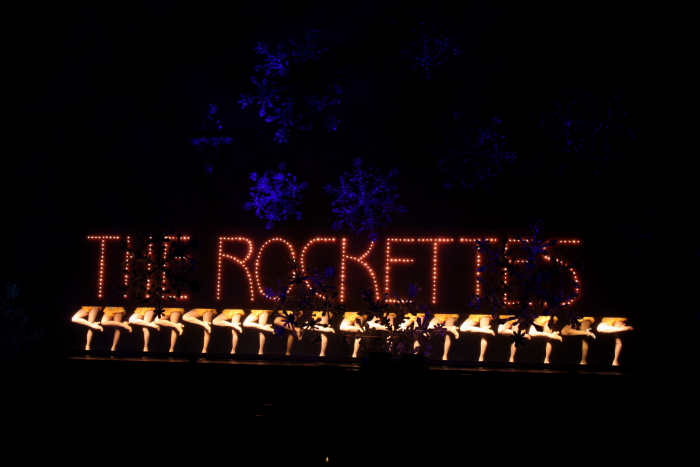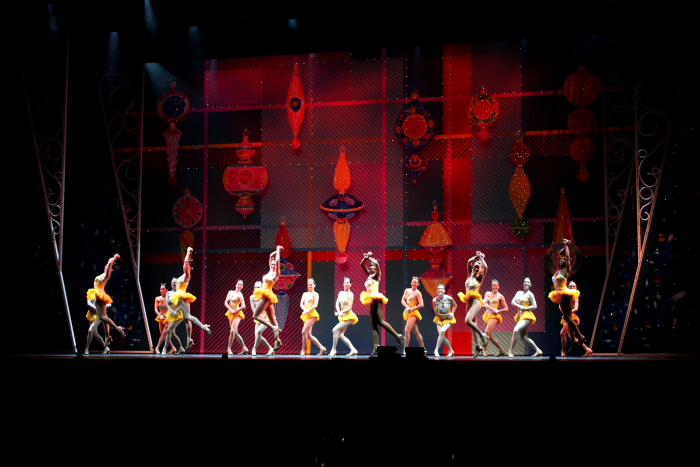 Check out the lips on this bear–Pucker up for the holidays!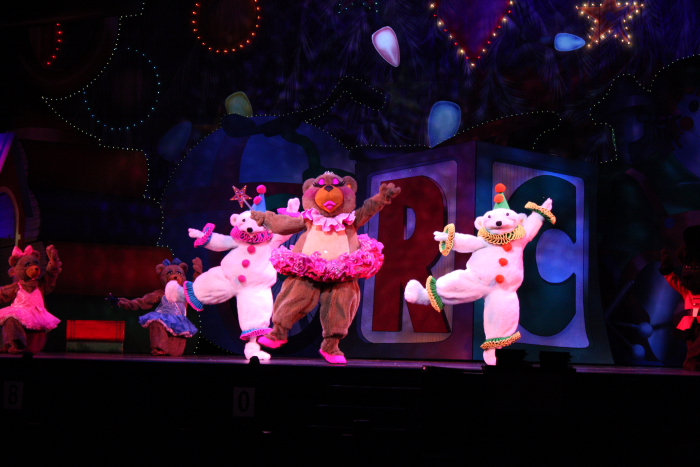 My favorite scene in the show is the Toy Soldiers.  Rockettes learn to safely fall down once "shot" and the secret to walking like a toy soldier? Keep your leggs straight and no bending at the knees.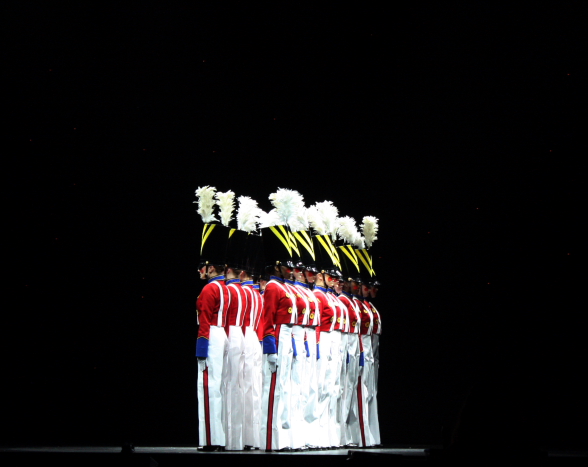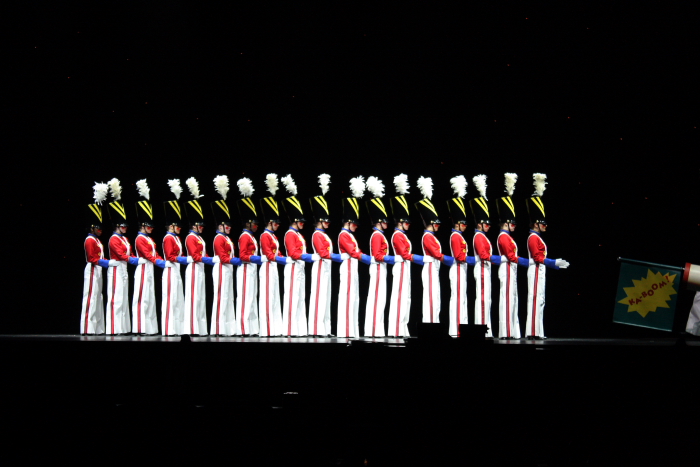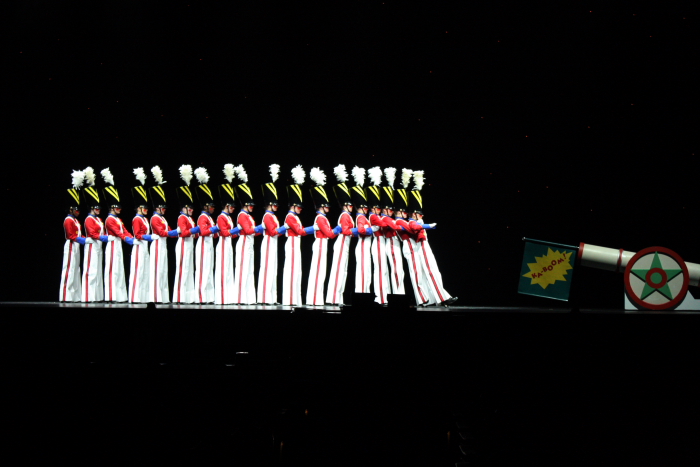 This is the tricky part!  How to fall so no one gets hurt?  (Tons of practice and a secret male toy soldier in back.)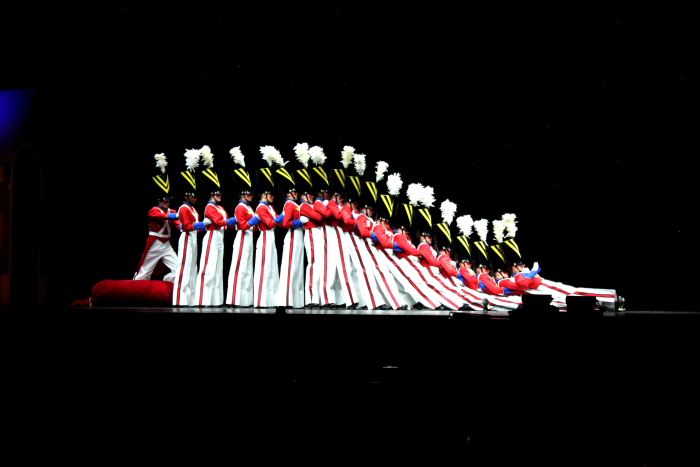 Before you know it Santa's back and has transported us to New York City for the Holidays!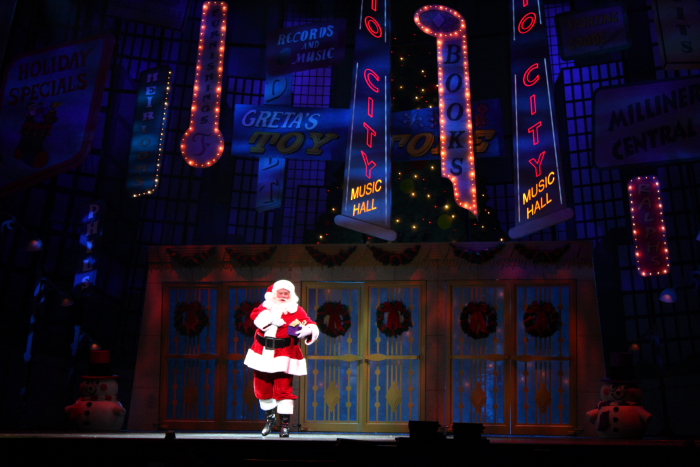 And who else loves to wear red?  Santa's elves of course…but who knew they had legs like this!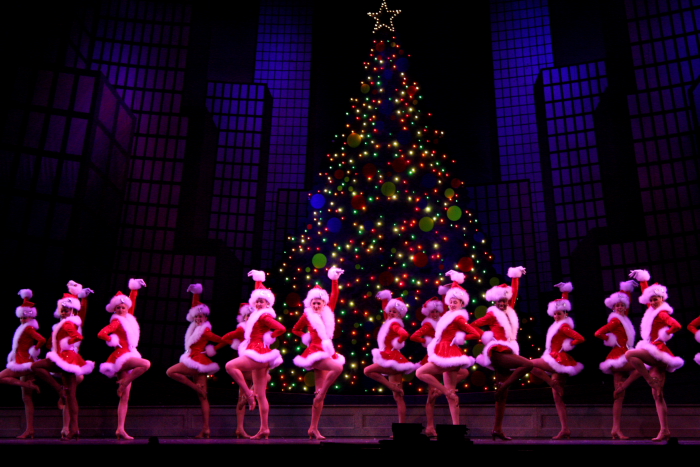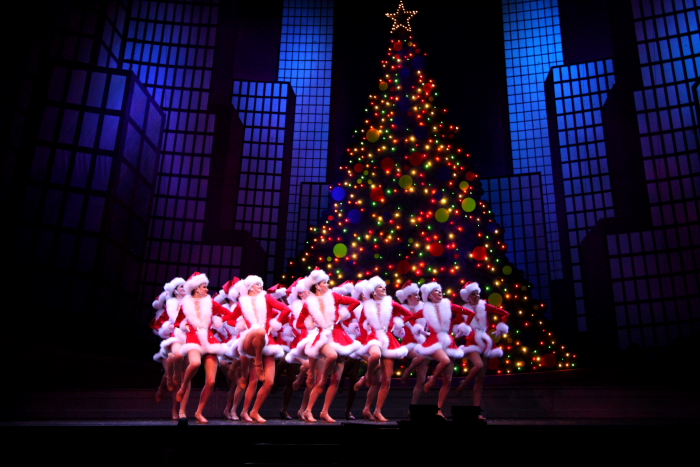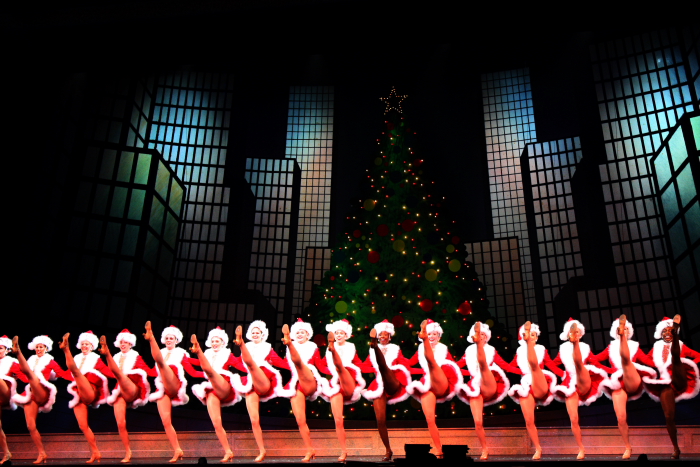 Over 300 kicks a show per Rockette and you have to be able to kick to eye level…so limber up!  An another Rockette secret?  During kicks, the girls do not hold onto each other.  Safety!
Treat yourself, friends, family to an early Holiday gift.  The Radio City Rockettes Christmas Spectacular is absolutely FANTASTIC!  You'll love the feeling you have once you are there and see the magic of Christmas come alive in true Rockettes style.  And yes, there is a chance of snow the entire run so dress warmly!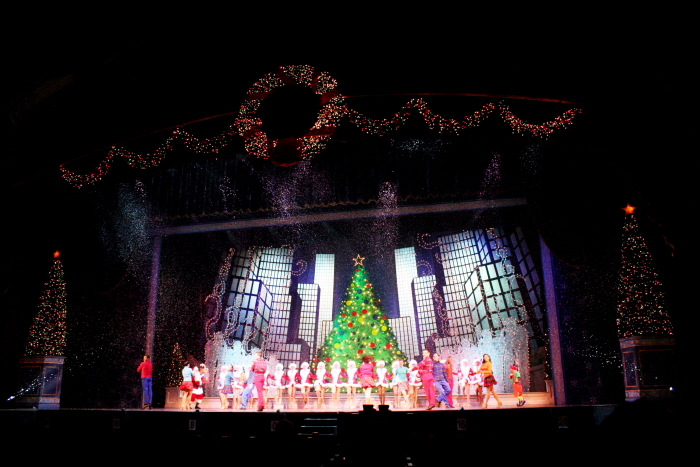 Look for Atlanta's own Carolyn Simpson from Duluth, GA.  A UGA grad, Carolyn has been "hunkering down" as a Rockette since 2005.  Thank you Carolyn for my behind the scenes tour.  The show was pure magic!
Finally,  a true French bistro with a "come as you are" dress code  (saw patrons in sweatpants, suits, t-shirts…)  Niko wants you to be comfortable and that's just what's in store for you when you arrive at Buckhead Life's newest creation, Bistro Niko. (And yes, Niko is there!)
I was pleasantly surprised to see just how refreshing the interior was and much larger than I imagined.  Very New York,  Paris and Buckhead all in one!
When you walk in the beautiful open kitchen is to your left and buzzing with a talented team of chef's preparing everything from traditional spreads like fresh & smoked salmon or"very French" chilled pork shoulder spread , Hors D'Oeuvres, Oysters on ice, Tartes, Charcuterie, Salades, Fabulous entrees that scream "Oui Oui!"
On this day, I was treated to a multi course dining experience with a few of my closest friends.  We started with "Gougeres" which are Light Gruyere Cheese Puffs.  I could have popped those in all day!  Next came Caviar!!
Wow! This is living huh? I could have eaten 5 of these.   Next up: Hors D' (Euvres) and Soupe De Haricots Blancs.  Translated, that's a delicious warming White Bean Soup with white truffle oil.  So nice! ( I wanted a straw to get it all but left it at home.)
Since I love Christmas and the Holiday's, I felt it necessary to order "Hachis Parmentier De Veau" or as I call it Shepherd's Pie.  Mama never made a pie like this at my house!  Delightful Celeriac-potato puree, petite salade vinaigrette and a big fork–but use a spoon to get every last bit. Come on, you're in France!! (pair it with Domaine De La Perriere, Sancerre Loire 2007)
Still having room I said "bring it on" and immediately came "Sole Barigoule".  I
figured this one before reading that yes, there's a fish in there.  Roasted Maine Lemon Sole, artichokes, carrots, pearl onion stew.  Whew!  This will warm you soul like everything else on the menu.  Buttery, fabulous.  And you must pair it with Costes De Rhone, E. Guigal Rhone 2007 (great year wasn't it.)
Do you have room for dessert?  I do!  Profiteroles Au Chocolat.  They looked like little mini cream burgers with steak sauce and were AWESOME!!
Pano's Private Reserve blend coffee matched perfectly with the chocolate. (what doesn't pair well with chocolate.)
Bistro Niko is located in the spectacular new Sovereign building, located at 3344 Peachtree Road at the Tower Place entrance.  404.261.6456.

I love the story of Nubs.  A stray dog in Iraq that found love and an unlikely owner, Marine  pilot, Maj. Brian Dennis.
The story of their friendship and Nubs' eventual transition from a dog of war to laid-back California pooch is so extraordinary Major Dennis ended up writing a children's book about it. The book, "Nubs: The True Story of a Mutt, a Marine & a Miracle," was just published.  (Little, Brown Young Readers.)  Watch interview here:
Chili for Children held at Chop's Lobster Bar benefiting Atlanta's Juvenile Diabetes Foundation featured homemade chili from ten chili lovers.  Chops own chef Bennie Castro started the lunch off with his own Cuban Chili. (Caliente!) This btw was one of the only times I've ever eaten out of Styrofoam bowls and plastic spoons at Lobster Bar.
I, along with my fav Jenny Levison "Souper Jenny" (Atlanta's BEST homemade soups & her Dad's famous Turkey Chili!),
John Robinson of The Manchester Arms (check out his cool place), and Executive Chef from Bluepointe Doug Turbush sat down to "judge" what we deemed the best.
Colored spoons matched the listed chili's in matching colors.  We all decided a cold Bud would be perfect to cleanse our palette between tastings.  Great idea!
I personally loved two of the chili's that didn't even place in the top 3 (and even Jenny and I agreed the winners weren't necessarily our favorites.)  Everyone has an opinion you know.  The crowd favorite? "Tres Chiles" that blended peppers in perfect harmony.  (Interesting choice I thought since the harmony was slightly off key for me.)   Thank You to all who came out to support Chili for Children as almost $10,000 was raised for JDRF.  Plus, any event at Buckhead Life Restaurant's is always a winner.
---