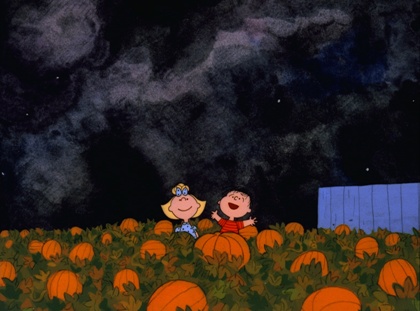 Join me for the annual Great Pumpkin Carving contest at The Atlanta Botanical Garden this Thursday night from 7 p.m. – 8 p.m.  I'll have prizes of scary dvd movies, T-shirts and other fun all while watching skilled chef's and carvers create magic in a limited amount of time.  Stroll the gardens sipping cider or brew and enjoy the scarecrows hiding throughout!  Have you seen the Atlanta Botanical Garden during the Spring?  See it here!
On a beautiful fall afternoon we gathered under the towering Oak tree in the garden of Century House Tavern to experience the new fall menu from Executive Chef Daniel Porubiansky.  Chef Daniel moved from the executive chef post at what is arguably the most highly regarded restaurant group in Atlanta and known around the U.S., (Bacchanalia and Star Provisions)  to Woodstock after a career that has spanned four decades, two continents, a fistful of AAA Diamonds and nearly enough Michelin Stars to require three hands to count them!  Yes, this is the amazing culinary creative being served at Century House Tavern.
Managing Partner and General Manager Jon Hayano, along with an experienced staff was there to greet us with livations.  Let the show begin!
The food for the meal was supplied by Farmer Tim and wife Nichelle from Rockin S Farms.  Chef Daniel is a fan of using locally grown produce and farm raised meats.  You can taste the love in every bite!
Nichelle, Kaedy Kiley and Farmer Tim
Our first course was Butternut Squash Soup.  Toasted Pumpkin Seeds & Leaning Ladder Butternut Squash Seed Oil.  On the spoon rested a Spaghetti Squash Salad of Goat Cheese Mousse & Truffle Vinaigrette.  #Fall-licious!
Just perfect.
This dish was paired with a glass of Jacqueline Brut and I actually enjoyed it since I mostly prefer wine.
Up next Seared Sea Scallops served with Braised Mustard Greens & Turnips.  I could lay down on these pillows and comforting greens.  Every aspect of this dish from visual presentation to texture, flavor and love was present.
This dish was delightfully paired with a glass of Gerard Bertrand Rose which was another delicious surprise!
Up next, the main attraction!  C.H.T. Signature Pot Roast!  Sweet Potato Puree, Sweet Potato Chips & Roasted Local Porcini.  This dish is a warm blanket of love.  Think tender many times over.  Think…Heavenly.
The pairing was a glass of Lodi Estates Cabernet Sauvignon. YES YES YES! Order a bottle of this amazing grape!
Chef Daniel describes the entrée as everyone just drools!
Still hungry? You bet! The Ellijay Prichett Orchard Gala Apple and Frisee Salad was served with Bacon Vinaigrette & Nature's Harmony Georgia Gold Cheddar.  This salad was a combination of love and gratitude.  #OrderThis
Assistant Manager Michelle created our pairing of an Autumn Apple Cocktail Martini!  Light cinnamon topped. #PRAISE!
Thinking that I couldn't eat anything else Chef Daniel and the team brought out a Double Chocolate Chip Brownie with homemade Salted Caramel Ice Cream.  I immediately found room for this one!
Slightly warmed, a little crispy on the edges (you know you love it that way!) and soft homemade ice cream OH MY!
Warre's Red Port was the perfect pairing.  Nothing but smiles after this!!
Every Course received a joyful round of applause!!!
Thank You Farmer Tim from Rockin S. Farms for loving what you do and sharing it with all of us!
Farmer Tim and Tracy
Thank You to Chef Daniel, Jon Hayano, Paul, Adam and the entire kitchen team for bringing us all love on a plate.  Also Coleman and Michelle, along with the entire C.H.T. staff for always bringing your A game.    Happy Fall ya'll!
Century House Tavern
125 E. MAIN STREET
DOWNTOWN WOODSTOCK
770.693.4552
Tom Sullivan is an Atlanta TV Host and Corporate Emcee  whose love of food has led to hosting Chef's Table at the annual Taste of Atlanta.  Tom often shares his experiences on his blog: TomOnAir.com
After years of working out by myself in the gym, I finally decided I really needed a personal trainer to motivate me, encourage me, assist me and ensure proper form (and so many other factors I never thought of.)  Scott Cameron of Buckhead Elite Training Studio is the man for this time of growth in my life!  After just a couple of sessions I am feeling more confident, alive and can actually see growth in all areas of my body!  I'll be posting updates as the sessions continue but know you can do this too!  (First step for me getting rid of those "Late July" chips!!)
Hi, thanks for watching Atlanta and Company!  Here's your chance to win the Disney PIXAR film "INSIDE OUT" which is out Tuesday, November 3, 2015 on Blu-Ray DVD!  You'll also win these 6 official Disney PIXAR "INSIDE OUT" emotion mugs AND a Bing Bong stuffed elephant!!
CONTEST BEGINS Tuesday 11/03/2015 at 11:00 a.m.
TO WIN:
**Just send Tom Sullivan an email* with PIXAR in the subject line AND YOUR NAME  and FAVORITE EMOTION to: TomSullivanHost@gmail.com
*Entries accepted dated November 3, 2015 after 11:00 a.m. and are due by Midnight, November 3rd, 2015.
*Winner notified by email and has 24 hours to respond or another winner selected.
*Prize must be picked up at 11 Alive studios this week by Friday, Nov 6th or prize forfeited.
*Include your name and favorite emotion
*Winner will be contacted by email
*prizes must be picked up and cannot be mailed
*entries must be emailed per entry instructions above
Thanks for watching and Good Luck!
*****Have you seen my Godson AIDAN THOMAS on Atlanta & Company!?*****
---