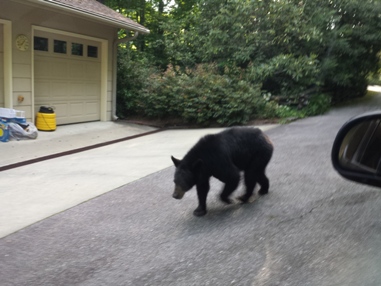 My dad and I were having dinner with a couple of friends Susie and Jane Tuesday night talking about all of the recent bear sightings in the Highlands, North Carolina area.  Having been to dad's mountain house many years, I'd never had the opportunity of seeing one in person.  That changed the next morning!
I had backed dad's SUV down the driveway to load the car when I turned around and walking about 15 feet behind me sniffing around the garage was a black bear!  I briskly walked to the back of the SUV, got in and closed the hatch.  Then I yelled for my dad who was in the house.  "DAD!! DAD!!!!  There's a bear!"  Asking him to take a picture I quickly remembered that my cell phone was in my back pocket.  In my adrenaline filled state I snapped a picture but then said "I'll shoot video!"
So I got my bear sighting–up close and personal!  It was a nice way to say goodbye to our mountain home after years of vacationing there.  Needless to say though, I was "bear-anoid" for an hour after that as I loaded the car, looking around for him to pop out again.
Here's another video makes me happy!
My dad finally decided walking up 4 flights of stairs in his huge town home overlooking the river was getting old (or maybe he was) so he said "time to downsize son."  With 35 years of amazing collectibles from all over the world that my mom and dad brought home we knew that an estate sale was in order but just who to call.  After trying to reach a couple of firms (one who never returned calls) we went with the VT Estate Sales team here in Atlanta.  And I am so glad we did!
Vicki and Greg arrived at our home to interview with my dad.  I instantly loved her personality, (good looks!) and compassion for what my father was going through.  She understood the sadness associated with having to part with all the things that my dad and mom had loved for so many years.  Vicki was knowledgeable of my parent's "treasures" and knew that he could have a successful sale.  A couple of weeks later Vicki and her team arrived at my dad's home and began pricing all 4 floors!  VT Estate Sales team members Merdis, John, Scott and Greg were hard at work researching valued antiques and making sure my dad was getting the most for his investments.  (This is another reason I love VT Estate Sales because instead of just letting customers bring items to checkout and naming a price, most every one of the over 1,000 items were priced! And they were priced aggressively to represent fair market value.)
Early morning of the sale the signs went up, police officer arrived to control traffic, and doors opened to a long line of buyers!  The flow was constant and lasted 4 days!  When the sale was over we were all thrilled beyond our expectations!$  Vicki had already arranged for the packing and loading of all remaining items to be taken to a charity of our choice. We knew right away that we wanted to support a true non profit like Buckhead Christian Ministry "Thriftique" that actually donates .84 cents of every dollar raised to charitable causes. (Goodwill is only .03 cents of every dollar and is a "for profit" business.)  Robyn at Thriftique was alerted to a large box truck delivery the next day and now my parent's loving treasures will continue to bless others again and again.
I proudly recommend Vicki Taratoot and the entire VT Estate Sales Team.  Contact her for your sale: vicki@vt-estatesales.com
Here's a real treasure for sale!