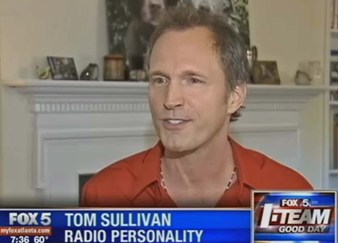 In February of 2014 while emceeing an event in San Francisco, my return flight to Atlanta was cancelled because of a snow storm.  What transpired over 36 hours became a lesson that I'll always remember.  Fox 5 I-Team reporter Dana Fowle has the story:
After Atlanta's second big snow event this year, Delta airlines took preventative measures and canceled flights early.  Well-known radio personality Tom Sullivan says he remembers what he was thinking when Delta texted him a message that his flight was canceled.  "I don't want to get stuck in San Francisco, one of our most expensive cities."
So, he tried like thousands of other customers to rebook his flight.  "I tried to reach Delta. The lines were jammed," he said. In the Fox 5 newsroom we were hearing about airline customers with four-and five -hour hold times. We talked with an aviation expert who says this isn't so unusual.  "When you have 10 or 12,000 people all trying to contact the airline at the same time things do break down. And there's almost no way to get around that," said Mike Boyd of the Boyd Group International.
Tom plugged away.  He said, "I logged into my Skymiles account. Tried to use the link they gave me to book another flight, and the links weren't working."  What he did next nearly cost him more than $1,000. You see, he booked two new tickets for himself and his traveling companion, on his own, outside of that rebooking system.  The good news: He got on a flight the next day, one day before the big February storm white washed Atlanta. The bad news: When Tom Sullivan requested a "full refund" for the rebooked tickets Delta Airlines response was 'no'.  "When weather shuts an airport like Atlanta down, trust me, 80 percent of the passengers think it's the airline's fault and the airline owes me, which is not fair or accurate, but it's reality," Mike Boyd added.
But, if you really think you're right, this aviation consultant says you should fight.  Mike Boyd said, "Don't let up, but make sure you're right and not just angry."  Tom Sullivan kept pushing. He wrote the CEO. And a week later, his money for the rebooked flight was finally refunded. All of it.  With a big grin Tom Sullivan said, "They turned lemons into lemonade and I learned a really good lesson. Don't book your own ticket when your flight is canceled.
Sullivan said he asked an agent what he was supposed to do. He says he was told if the phones are jammed, if the Web site isn't working, and if you want to be sure, 100 percent sure, you'll get a free, rebooked flight, you have to go to the airport and have one of their agents book the travel for you.
Still, despite the wait times and the computer issues, Mr. Boyd gives the airline an "A" grade for how it handled the situation. Delta's spokesman wouldn't say whether Tom Sullivan made a right or wrong choice, but he did throw into the mix two more options. Make you have the Delta app on your phone for updates and try contacting the airline through Twitter @DeltaAssist.
If you're hunting for culinary gold, stop panning and head to Century House Tavern on the historic Woodstock Square.  Executive Chef Daniel Porubiansky moved from the executive chef post at what is arguably the most highly regarded restaurant group in Atlanta and known around the U.S., (Bacchanalia and Star Provisions)  to Woodstock after a career that has spanned four decades, two continents, a fistful of AAA Diamonds and nearly enough Michelin Stars to require three hands to count them!
As with most visits to Century House Tavern, we were greeted by Managing Partner and General Manager Jon Hayano
Once seated at our table, our amazing server Sarah raved about the "fried brussel sprouts" and I couldn't help but think like fried calamari.  Nooooooo! No breading on these! This amazing dish is the pan of gold for your tastebuds you've been looking for. Fresh Brussel Sprouts that are seared with  Grilled Red Pears and a Delectable Spiced Pear Glaze topped with Brioche croutons.  My first bite was so extraordinary that I ran to the kitchen to hug the Chef (right after I ordered another one!)  "The creative credit goes to Sous Chef Brett Ashcroft" says Chef Daniel.  #StandingOvation!

My Godson Aidan and I split a dessert of CHOCOLATE CRÉME BRÜLÉE. (Sorry no picture, we ate it too fast!)
CHT is my one of my top picks for an amazing foodie experience.  Now that you're full, grab a glass of wine and watch this!