I'm an Atlanta native but am still discovering small towns and delicious places to dine.  Nestled in the five points of Crabapple's Historic District lies the distinctly unique Milton's Cuisine & Cocktails.  The restaurant occupies a 150 year-old farmhouse & 1930′s cottage that were preserved and restored to create one of the warmest dining environments.  I first discovered Milton's during The Atlanta Chef's Expo a couple of years ago and then had the distinct pleasure of working side by side with Executive Chef Derek Dollar during Taste of Atlanta where Milton's was voted "best taste" by Taste of Atlanta fans!   I then attended one of the amazing garden dinners that take place with 80 or so of your closest friends in Milton's Acre which is where most of the organic produce comes from during the growing season. (hence the "seed to fork" experience.) Maybe you'll see Gardner Tucker Coltek who cultivates and nourishes the garden daily.  I've been back two more times! But this evening I opted for inside dining with my first time guests.
We arrived at 7 and were greeted by a gracious host team.  Julie was as friendly in person as she was on the phone.  GM Mike Earnest welcomed us as we were taken to our table in one of the smaller rooms of this 150 year old farmhouse.  The atmosphere reminds me of my home growing up with warm woods and comfortable surroundings.  You know those feelings you get when you're in a place that just feels great.  (My dad had a bar but just not this big!)
Our server Victoria was spot on all night as was the entire Milton's team.  We were treated like family but a family with no dysfunction.  You know, where everyone gets along! Executive Chef Derek Dollar who I've been a fan of since day one of coming to Milton's recently acquired the talents of Executive Sous Chef David Morrison who seamlessly creates magic in the kitchen as well.
We started with fresh squash chips from the Milton's one acre garden where most all the produce used in this award winning restaurant originates.  The squash was sliced thin, coated, flash fried and served crispy.  A first and now a fav! Gotta have the fried pickles too with a spicy remoulade. #YUM!
Did I mention farmhouse deviled eggs?!! avocado, applewood smoked bacon,
smoky paprika aioli, crispy shallots,
arugula oil
One of the most popular fish dishes at Milton's is the Sesame Crusted Mountain Trout atop buttermilk mashed potatoes, served with asparagus, sweet potato shrimp fritters, red chile syrup.  The flavor profile of this dish is fantastic!
The gluten free Carrot Cake with "secret flour" was some of the best I've ever had!  (no pic, too busy enjoying!)
Milton's Garden Dinners always sellout so book early.  Here's the schedule for 2016.
Ready to taste more? Mark your calendars for the best food festival in the S.E.!
For years since I was a child, Macy's has always had The Great Tree lighting on Thanksgiving night.  The Great Tree started downtown on top of the Rich's Department store in the 1940's then transitioned to Underground Atlanta and ended up at Lenox Square on top of the now Macy's Department Store.  In 2012 a crane removing the fully decorated tree from the roof snapped and the tree slammed into the roof entering the mens store (store was closed at time) and breaking windows on side of building.  Macy's decided it was time to go to an artificial tree (much like Macy's in San Francisco) and move the tree off the roof to the parking lot.  The tree, even though much smaller in size, seemed out of place there. 

This year Macy's Great Tree returns to the roof where it all started!  Inside sources (elves) say the outcry from the public was overwhelming.  So this year look up and #Believe in Atlanta's annual holiday tradition.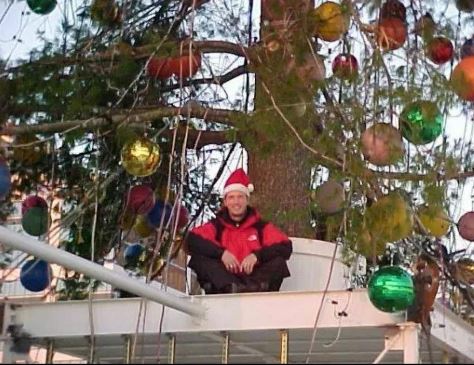 I slept under the Rich's-Macy's Great Tree for over 2 weeks during the "All I Want for Christmas is a President" campaign in 2000.
Set sail with Mariah Carey like you've never seen!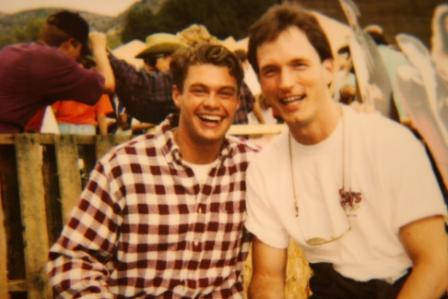 I remember that day in January of 1992 when Ryan Seacrest phoned me on the air at Star 94 FM.  "I go to Dunwoody High School and do the morning announcements.  I'd love to learn more about pop culture and radio."  Ryan came in that Saturday afternoon and we hit it off.  His passion for radio was just like mine.  We both got excited over segueing a song, running a tight board, playing the jingles, answering the phones….  Here is Ryan on air for first time from "inside" the station and not just calling in from his Dunwoody home.  Ryan is a frustrated caller to the station complaining about jammed phone lines for U2 ticket sales at ticketmaster.
I trained Ryan in all aspects of radio for the next several months.  We became really great friends during that time and in September of 1992 during an extended Labor Day weekend, I called Ryan and said "Buddy, do you want to go on the air for me tonight?!"  That was the beginning of Ryan's now illustrious broadcasting career.  We still talk and remember the early days of his career.  The only difference is he could now buy the radio station!  Thank You for giving me props on #KimmelLive.
I started in radio with a totally different experience. Yes, radio really quacked me up!