I am one of the biggest fans of Costco.  As a matter of fact I am proud to say I was the very first customer at the Brookhaven Costco when it opened in October of 2010.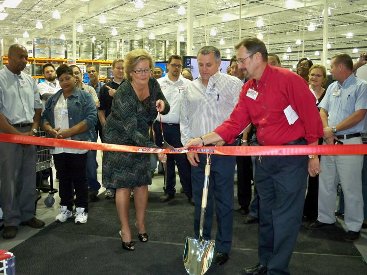 I along with 64 million other Americans have discovered the joys of saving money and finding those unexpected "treasures" (which make up 25% of Costco's inventory) on any visit to Costco.  Of Costco's 4,000 items, the biggest selling item is one I bought just yesterday–their own brand of toilet paper!! Kirkland Signature (the name was derived from their hometown of Kirkland, Washington.)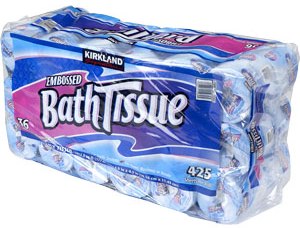 Costco has a testing lab and team that only studies toilet paper.  (what a s%@* job!) Costco also sends a toilet paper squad across country from paper mill to paper mill studying the manufacturing process and other factors like humidity, and temperature which affect the final produced roll.  Who knew?!
Costco sells over $4,5 Billion dollars of beef, $4 Billion dollars in produce and nearly $2 Billion dollars in TV's every year.  On any given day you can nosh on samples of crab and crackers, rotisserie chicken, drinks and the like all enticing you  to buy more than you planned.  I purchased a tub of $10.00 salmon dip after tasting…and then a $8.00 bag of Doritos, a huge bag of $6.00 popcorn and a $25.00 casserole all from sampling.  Just watch where you push the cart!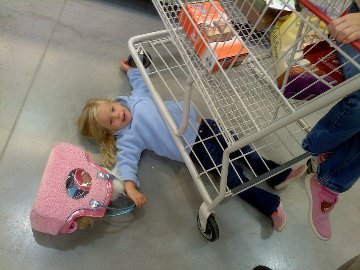 Check the end of aisles for "clearance" items, discontinued and markdowns and know that you're saving money when you shop Costco because nothing is marked up more than 15%.  The biggest amount of profit is from the membership fees.  90% of members renew and that's one of the highest in the retail industry.
I waited 1 hour to meet the C.E.O. of Costco JIM SINEGAL!
Costco secrets:  A star next to an item on the price tag means it will not be restocked.  Case in point:  The Kashi Blueberry waffles.  Gone from all GA clubs. (damn!)  If an item ends in a "7" or "0" is has probably been marked down.  (Most regular prices at Costco end in "9".)  Buy your electronics at Costco because most come with a 90 day return policy and their concierge service is FREE on most TV's.   Costco guarantees your 100% satisfaction from membership to products they sell.  So come join us–there's plenty of room inside for you!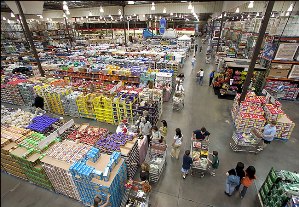 Shop Costco online.  Here is an example of savings!
FOO FIGHTERS AND PEARL JAM TO HEADLINE MUSIC MIDTOWN 2012
The Meadow @ Piedmont Park Friday, Sept. 21 and Saturday, Sept. 22
Feeling like Fall in Atlanta for the annual return of Music Midtown!
There are less than 3 weeks left to purchase one-day Music Midtown tickets at the special low rate! Announced today, one-day passes purchased day at the festival will increase to $65, so those who wish to save the additional $10 should head to Festival Website.
The 2012 lineup features the Foo Fighters, Van Hunt, TI, Joan Jett and The Blackhearts and The Avett Brothers on Friday, and Pearl Jam, Ludacris, Girl Talk, Garbage, Adam Ant, Neon Trees, Florence + The Machine, Civil Twilight, LP and O'Brother on Saturday.  It's not too late for the rock star treatment either, Citi® VIP Club and Super VIP tickets are still on sale and feature all the amenities a music-lovers heart could desire.
Citi® VIP Club | $ 250.00 per day/ticket
Packages include: Admission to the festival, Private VIP entrance, Private outdoor area at Park Tavern with complimentary food & beverage all day, Private air-conditioned restrooms and First opportunity to buy VIP packages in future years.
Super VIP | $ 1,000.00/ticket
Packages include: Admission to the festival, Valet parking, Private VIP entrance, Exclusive viewing areas located to the front of both stages only accessible through backstage, Private indoor and outdoor areas at Park Tavern with complimentary food & beverage all day, Private air-conditioned restrooms, Event t-shirt and limited edition screen print poster, VIP laminate, and First opportunity to buy VIP packages in future years
Heading to the concert? Get your Cuban on!
Atlanta's Iconic Venue Hosts Their Own One-Day Concert on May 19 | Tickets On Sale Now
Centennial Olympic Park's PARTY IN THE PARK announced the addition of the band Ponderosa to the one-day concert on May 19, which finalizes the lineup that includes previously announced bands: The Flaming Lips, Young the Giant, AWOLNATION and Dawes. The first ticketed, self-produced concert by Centennial Olympic Park in 10 years, the lineup reflects the venue's goal of encouraging the community to support live and diverse entertainment in downtown Atlanta.
Meet the lineup!
The Flaming Lips: Formed in Oklahoma in 1983, the Flaming Lips are one of the more daring rock bands of the last three decades, embracing everything from psychedelic tunes to orchestral pop. Acclaimed for their elaborate live shows, which feature costumes, balloons, puppets, video projections, giant hands and a man-sized plastic bubble, the Lips were named by Q Magazine as one of the "Top 50 Bands to See Before You Die." The group has won three Grammy Awards, including two for Best Rock Instrumental Performance. Flaminglips.com.
Young the Giant: An alternative-rock band, Young the Giant released its debut album under Roadrunner records in 2010, with the singles "My Body" and "Cough Syrup" peaking at number five and three on the Billboard's U.S. Alternative Songs chart, respectively. After a successful year that includes performing at the MTV Video Music Awards, headlining the Billboard Showcase at South by Southwest, and touring with Incubus, the band began their first headlining tour in February 2012. Youngthegiant.com
AWOLNATION: Formed and fronted by Aaron Bruno, AWOLNATION is an electronic-rock band signed with Red Bull Records. The band's most recent album "Metalithic Symphony" was released in March 2011, and included Gold single "Sail", which reached top 10 on both Billboard's U.S. Alternative and U.S. Rock Songs charts. Bruno writes all of the songs himself, with guidance from friends, family and respected artists. Awolnationmusic.com.
Dawes: A folk-rock band from Los Angeles, Dawes combines organic melodies and raw emotion with bluntly-delivered lyrics. The band released their sophomore album "Nothing is Wrong" in June 2011 and was later named the "National Overall Band of The Year" at the TriState Indie Music Awards in February 2012. They are currently in the midst of a tour with shows across the U.S. and United Kingdom. Dawestheband.com.
Ponderosa: The Atlanta-based act crafts music that is genuine, soulful and psychedelic. Ponderosa released their New West Records debut album "Moonlight Revival" in January 2011,  years after a representative of the record label noticed the group for their ability to "click with the crowd" during a 2009 performance at Athfest. Ponderosamusic.com
Tickets are just $25 in advance and $30 at the door, and can be purchased through Ticket Alternative; ticketalternative.com. Gates open at 3 p.m. with live music until 11 p.m. Tickets are valid for admission with no re-entry; rain or shine event. Patrons may bring blankets, lawn chairs and personal umbrellas. For the safety of everyone, no pets, bags, coolers, bottles, picnics, recording devices, bikes or alcoholic beverages may be brought to the Park during PARTY IN THE PARK.
Jazz up your life HERE!
35 years of great jazz in our city as The Atlanta Jazz Festival celebrates this milestone in our musical culture.  For the entire month of May there will be jazz performances in parks, restaurants, clubs and venues around Atlanta culminating with the FREE  performances in Piedmont Park over Memorial Day weekend.   Whether you like your jazz traditional or contemporary, smooth or eclectic, with big band swing or a Latin beat, they'll be something to excite your senses and soothe your soul.
This year's performance schedule includes jazz greats Roy Ayers, Cyrus Chestnut, Kathleen Bertrand, Russell Gunn, Edy Martinez, Ojeda Penn and Johnny O'Neal.   Newcomers to the festival include the rhythmic Tito Puente Jr. Orchestra, soulful singer and saxophonist Grace Kelly, and the R&B and hip-hop influenced Robert Glasper Experiment.  
Check out the complete lineup, locations, schedules and activities for all ages here at The Atlanta Jazz Festival.
While you're in the park, stop here for a stroll in one ofmy favorite Atlanta destinations.
I'm getting together with my TV wife and friend Holly Firfer  as we help select the best martini in Shula's 347 Grill Martini Mix off  taking place this Thursday, August 9th  from 6:00 – 9:00 p.m. in Buckhead.  The winning martini will have  their name  attached to the cocktail and added to the Shula's 347 Grill menu, and awarded great prizes like a Shula's gift card for perhaps one of their delicious, juicy steaks, overnight stay at the Atlanta Marriott Buckhead Hotel and more!
And of course what goes better with a martini than one of Shula's signature steaks!!
When you get home, head to Ireland!
---