Gift for Life proudly announces that Party for Life New York (January 2011) raised (drum roll, please….) more than $150,000 on behalf of DIFFA to support HIV/AIDS prevention!
"We are thrilled with the generosity of the industry as we raise funds while having tremendous fun," said Jenny Hammons, Gift for Life chairperson.  "To date we have raised more than $5 million for HIV/AIDS research and assistance through the generous help of partners and party attendees.  We look forward to seeing everyone in January 2012."
Event Host and Emcee Tom Sullivan said "I love this event!  Plus, walking through Central Park with 21″ of snow on the ground was just beautiful.  Thank you to everyone who volunteered their time and energy to support life.  See you in 2012!"
And by "party attendees," she means the 350+ folks who were there kicking up their heels and letting down the hair. Not a bad way to spend Sunday night.
Thanks to everyone who helped make this year's fundraiser a rousing success; when we all pull together, we really can make a difference (and have a little fun at the same time).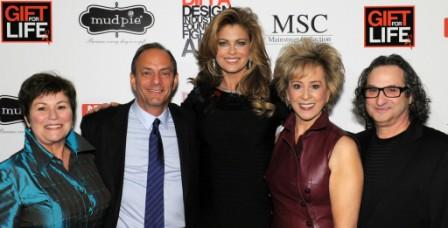 Jenny Hammons (outgoing GFL Chair), David Moses (Bert Tonkin Gift of Giving Award), Kathy Ireland (Design for Life Award), Marsha Miller (Trailblazer Award), and Peter Schauben (one of the original GFL founders)