Wednesday, March 29 2016, join us at The Punchline Comedy Club (in their new Buckhead location!)  This benefit for the SHARE Military Initiative at Shepherd Center features Professional Ventriloquist John Pizzi and Gilbert Gottfried! Tickets are a beneficial $125 each which will truly help our Military men and women.  The SHARE (Shaping Hope and Recovery Excellence) Military Initiative began in 2008 in order to provide a continuum of rehabilitation care for soldiers who have sustained a spinal cord or traumatic brain injury while serving the United States on active duty in Iraq or Afghanistan. The SHARE program typically treats 8-10 individuals at a time and the average length of stay in the program is approximately three months.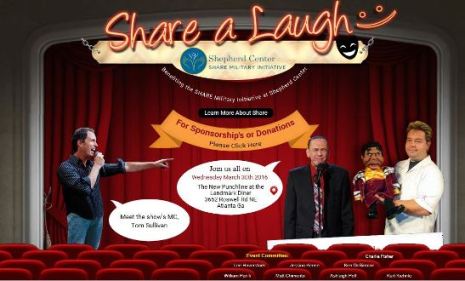 Viewers of Atlanta & Company can win a table for four!  To enter, simply email your: NAME, PHONE NUMBER and the words SHARE in SUBJECT LINE to: tomsullivanhost@gmail.com
One winner will be chosen at random and notified Wednesday by phone at 1 p.m.  You must be able to answer your phone during the time of 1:00 – 1:10 p.m.
Thank You for watching A&C and for visiting my website.  And if you don't win, please consider supporting this great initiative for Shepherd Center by coming to The Punchline Comedy Club Wednesday night at 7:00!
I love the cozy feel of a small town…and Marietta Square has that feel, especially during the Holidays.  I recently visited Piastra for an Italian feast.  Manja!! Chef Greg Lipman and his family recently acquired the space and are now turning out true Italian with a spin on some dishes that will have you coming back. Chef Greg guided us through the menu along with a trio of servers who treated us as Italian royalty!  Mom Betty was on hand too.  I asked her where she found Chef Greg and she replied "I knew him 9 months before he knew me! He's my son!!"  Here's a look at what we enjoyed:
Arrancini – Risotto balls stuffed with Provolone cheese, breaded and fried with Oregano Garlic Oil. Perfect.
-Mozzarella Scottato – House made fresh Mozzarella, breaded and sauteed, topped with marinated Grape Tomatoes!
-Trio of Pizzas – Margharita, Salsicca, and Pepperoni
-Grilled Pork Flatiron with Polenta cake, Grilled Rapini, Charred Apples and Apple Cider Agridolce (YUM!)
-Indentro – Inside out giant Ravioli, Roasted Tomato pasta, stuffed with house made Burratta Mozzarella, tossed with Basil Pesto White Wine Sauce  (This was amazing!)
-Rigatoni Domenica – Rigatoni pasta tossed with house made Fennel sausage, Calabrese Chilies, Shallots, Marsala and a touch of Pomodoro finished with a dot of cream and Pecorino cheese. This was one of my favorites!! You'll truly love that bite!! Noodles cooked just right too.
We also enjoyed a couple of more menu items but couldn't stop eating to take the pictures!!
-Calamari Fritti – Fresh Fried Calamari served with Lemon Garlic Aioli and Roasted Red Pepper sauce
-Baccalao – Soft Cured Cod, Baked with Cippolini Onions, Calabrese Peppers, White Wine, Fingerling potatoes and wilted spinach.
Piastra  supports local farms and purveyors and make as much from scratch as possible.  It's food made with love! Piastra is open for dinner Tuesday – Sunday.
On a beautiful fall afternoon we gathered under the towering Oak tree in the garden of Century House Tavern to experience the new fall menu from Executive Chef Daniel Porubiansky.  Chef Daniel moved from the executive chef post at what is arguably the most highly regarded restaurant group in Atlanta and known around the U.S., (Bacchanalia and Star Provisions)  to Woodstock after a career that has spanned four decades, two continents, a fistful of AAA Diamonds and nearly enough Michelin Stars to require three hands to count them!  Yes, this is the amazing culinary creative being served at Century House Tavern.
Managing Partner and General Manager Jon Hayano, along with an experienced staff was there to greet us with livations.  Let the show begin!
The food for the meal was supplied by Farmer Tim and wife Nichelle from Rockin S Farms.  Chef Daniel is a fan of using locally grown produce and farm raised meats.  You can taste the love in every bite!
Nichelle, Kaedy Kiley and Farmer Tim
Our first course was Butternut Squash Soup.  Toasted Pumpkin Seeds & Leaning Ladder Butternut Squash Seed Oil.  On the spoon rested a Spaghetti Squash Salad of Goat Cheese Mousse & Truffle Vinaigrette.  #Fall-licious!
Just perfect.
This dish was paired with a glass of Jacqueline Brut and I actually enjoyed it since I mostly prefer wine.
Up next Seared Sea Scallops served with Braised Mustard Greens & Turnips.  I could lay down on these pillows and comforting greens.  Every aspect of this dish from visual presentation to texture, flavor and love was present.
This dish was delightfully paired with a glass of Gerard Bertrand Rose which was another delicious surprise!
Up next, the main attraction!  C.H.T. Signature Pot Roast!  Sweet Potato Puree, Sweet Potato Chips & Roasted Local Porcini.  This dish is a warm blanket of love.  Think tender many times over.  Think…Heavenly.
The pairing was a glass of Lodi Estates Cabernet Sauvignon. YES YES YES! Order a bottle of this amazing grape!
Chef Daniel describes the entrée as everyone just drools!
Still hungry? You bet! The Ellijay Prichett Orchard Gala Apple and Frisee Salad was served with Bacon Vinaigrette & Nature's Harmony Georgia Gold Cheddar.  This salad was a combination of love and gratitude.  #OrderThis
Assistant Manager Michelle created our pairing of an Autumn Apple Cocktail Martini!  Light cinnamon topped. #PRAISE!
Thinking that I couldn't eat anything else Chef Daniel and the team brought out a Double Chocolate Chip Brownie with homemade Salted Caramel Ice Cream.  I immediately found room for this one!
Slightly warmed, a little crispy on the edges (you know you love it that way!) and soft homemade ice cream OH MY!
Warre's Red Port was the perfect pairing.  Nothing but smiles after this!!
Every Course received a joyful round of applause!!!
Thank You Farmer Tim from Rockin S. Farms for loving what you do and sharing it with all of us!
Farmer Tim and Tracy
Thank You to Chef Daniel, Jon Hayano, Paul, Adam and the entire kitchen team for bringing us all love on a plate.  Also Coleman and Michelle, along with the entire C.H.T. staff for always bringing your A game.    Happy Fall ya'll!
Century House Tavern
125 E. MAIN STREET
DOWNTOWN WOODSTOCK
770.693.4552
Tom Sullivan is an Atlanta TV Host and Corporate Emcee  whose love of food has led to hosting Chef's Table at the annual Taste of Atlanta.  Tom often shares his experiences on his blog: TomOnAir.com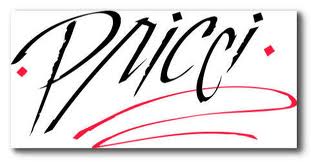 And the Oscar goes to…
You!  Welcome viewers of Atlanta & Company!  Here's your chance to join me on Oscar night with dinner for 2 and all the glitz and glam of Hollywood!!  Entry details below.
All of Hollywood is walking the red carpet for The 88th annual Academy Awards live in Los Angeles on Sunday February 28th.  You can be walking the red carpet here in Atlanta for the annual Pricci Academy Awards viewing party! Dressed to impress, you'll be welcomed by the flashes of paparazzi, sky lights and Hollywood glam! Watch and hear the Academy Awards live on large plasma TVs throughout Pricci, and compete for movie prizes including official theatre 1 sheets (some dry mounted and suitable for framing) soundtracks, dvd's, T-shirts, Buckhead Life Ultimate Dining Cards including our grand prize of a $250 Buckhead Life Ultimate Dining card and many more VIP surprises!  I'm excited to be returning again this year as Host and Emcee for this fun Hollywood evening!!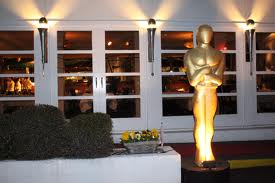 Dine like Hollywood royalty on our movie-inspired menu, featuring dishes themed around the nominees.  For instance The Gnochetti of "Hugo" Cabret with Russett Potatoes & Fontina Cheese Filled Dumplings and Black Alba Truffle, or "Extremely Tasty and Incredibly Satisfying" Risotto All' Aragosta, with Fresh Maine Lobster, and more.  What will Chef Piero and his culinary team prepare for this years Best Picture nominees: The Big Short, Bridge of Spies, Brooklyn, Mad Max: Fury Road, The Martian, The Revenant, Room, and Spotlight.
And of course the Pricci bar will serve up delicious inspired cocktails as well! Come early or stay late in Pricci's Green Room Lounge and have your photo taken with A-List celebrities through the "green screen" magic. 

First seating starts at 6:30pm,  Second seating starts at 8:30pm.  Enjoy the first seating so you can relax on one of our comfy sofas in the Oscar themed lounge for a more intimate viewing experience!  Or, you may enjoy the 8:30 seating that allows you the opportunity of seeing the show from your table!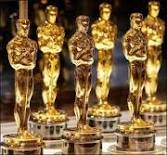 You'll want to reserve your seat however as this event always sells out.  This is the party to celebrate the Oscars!
**To enter for a chance at winning dinner for 2 at the 8:30 p.m. seating (start of show!):
email your name, phone number and the word OSCAR in the subject line to:
TomSullivanHost@gmail.com
—you MUST put OSCAR in the subject line or entries are disqualified.
A winner will be selected at random on Friday morning, February 26th and announced on Atlanta & Company at 11:00 a.m. that morning.
–Entires accepted starting Monday, February 22, 2016 at 11:10 a.m. and must be received by Thursday, February
25th, 2016 at 11:59 p.m.
Your prize includes the famous Pricci 4 course meal! (Alcoholic beverages not included.)
Thank You for watching Atlanta & Company and visiting Tom Sullivan's website!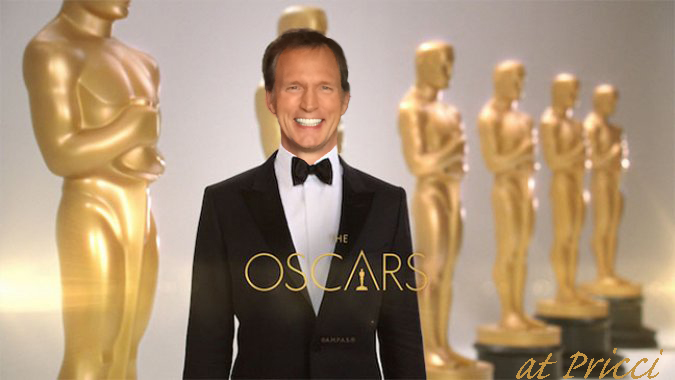 For more information and reservations, call 404.237.2941.
Travel with me to Africa here!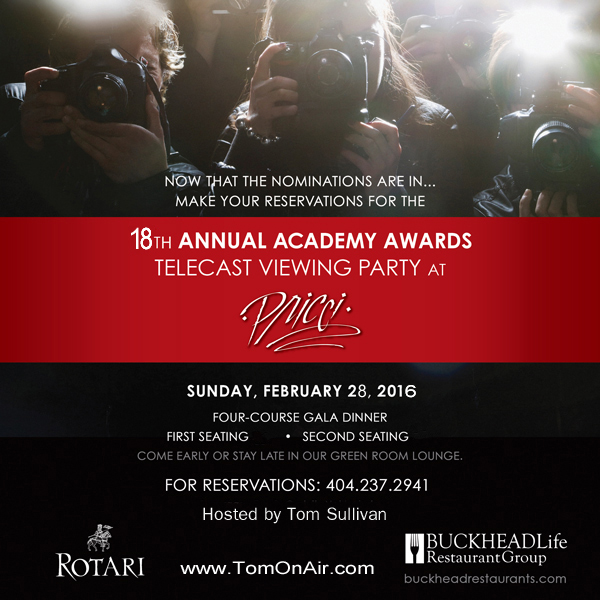 Welcome! Atlanta's Host & Emcee is Tom Sullivan
When companies want an engaging host to liven up their event, they call Tom Sullivan.  Tom has been hosting events for Fortune 500 companies for years.  As a television host and radio personality, Tom has the ability to genuinely connect with the audience while maintaining the flow of the evening.  "I love interacting with people and am passionate about bringing my personality to help further brand the product and company image" says Tom.
Please visit the Media Center for more information and to contact Tom for your next event.
.
---