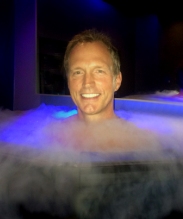 I had heard a lot about Cryotherapy so when a friend told me about Cryo Elite Therapy in Buckhead I had to give it a try.  Located inside Buckhead Elite Training center (just up the street from Piece of Cake bakery–how fitting) CryoEliteTherapy is a whole-body exposure to subzero temperatures to decrease inflammation, stimulate weight loss and anti-aging, decrease pain, and promote overall health.  (A 3 minute experience can help produce a 500-900 calorie burn throughout the day!)

The CryoEliteTherapy Sauna is open topped so plenty of room.  Once inside your head is fully exposed and your arms can rest on the top edge if you desire.  You are fully enveloped by hyper-cooling air that ranges between -184°F and -292°F. Don't let these extreme temperatures scare you.  The cold is a dry cold and is a healing experience.  The three minute treatment lowers your skin surface temperature and starts to stimulate the body's healing receptors.  The treatment is painless, and refreshing! (Felt great on a 100 degree day.)  I found the experience to be invigorating and improves a variety of conditions such as psychological stress, insomnia, muscle and joint pain, and various skin conditions. Professional athletes have discovered that whole-body cryoelitetherapy is a powerful treatment to decrease recovery time and increase athletic performance.  I went to the gym an hour later and those normal tiny aches during lifts were gone and I had more energy!!  Plus, I slept like a baby all night.

As an added benefit the CryoEliteTherapy sauna is engineered, designed, and manufactured in Atlanta, Georgia by the leading innovator in whole body cryotherapy and is the best available.

I am a doctor–on TV.