I remember my mom prodding me through all my merit badges on the way to Eagle Scout. Both my brother Walker and I received the cooking merit badge but through the years I've grown  to  enjoy being served an excellent meal rather than preparing one!  Recently I was treated to Walker's award winning BBQ Brisket.  Now I've been to Bobby Flay's restaurant in New York.  As a matter of fact we waited 1 hour for a table and then found the sauces were the only enjoyable part of the meal.  Walker has a way with sauces and his recent dinner was just that–Exceptional.
The beef brisket is slow cooked on his Big Green Egg.  The flavor is unbeatable.  But the Adam Perry Lang BBQ sauce makes this dish.  I found myself going back again and again…and then getting a straw! (You can find the recipe in Adam's book Serious Barbecue.)
And yes, the corn is also cooked on the Big Green Egg.  Homemade organic cole slaw.  Put some BBQ sauce on the slaw ya'll!
For dessert Walker made a homemade Chocolate Mousse Pie that was just perfect after the heavy brisket.
Skip the canned whip cream.  You'll want to stick to the recipe and make it fresh.
And to top it off, fresh Georgia peaches seared in an iron skillet with bacon!!
I snapped a pic of the recipe for the Mousse….simple to prepare but then again, I'm not cooking it!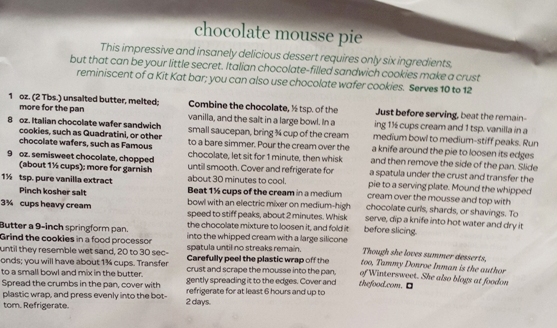 Ready to taste more of the best?  Grab your fork and click HERE!
Tom Sullivan is a Television Host and Corporate Emcee based in Atlanta Georgia. Tom annually hosts Taste of Atlanta "Chef's Table" where he shares his love of food with local Chef's.