Located in Roswell, (just EAST of GA 400 off exit 7– in shopping center across street from fire station) Foundation Social Eatery is an amazing #Foodie destination.  Chef Mel and his team de cuisine are creating food that is made with love.  You taste it in every bite.  Layers of flavors and textures that are visually stunning as well.  Every bite is a well read story that takes you on a journey of culinary bliss!  Pair that with a great bottle of wine or drink from the full bar and you've got a treasure in Roswell that ranks as one of the best restaurants in the Atlanta area. Chef Mel has over 15 years experience in kitchens from legendary Bacchanalia to Century House Tavern. 
The Mushroom Ravioli is absolutely impeccable. I ordered two! Smooth and tasty with just the right texture.  Order this while you can! I am serious.  THIS is a creation beyond words.
The Berkwood Farms pork shoulder with bacon melted in our mouth.
Wood oven roasted chicken was even better than I imagined with a distinct delicious flavor.  Chicken has never tasted this good.
I really love Sea Bass and was looking for a different presentation than Hong Kong style and I found it!  Crispy, flavorful and moist on top of a white bean fennel ragout that rounded it all out.  Loved the olive relish on top!
The burger is ground fresh daily from "happy" cows that roam the hills of a farm in Tennessee.  You can taste the difference of grass fed beef in every bite.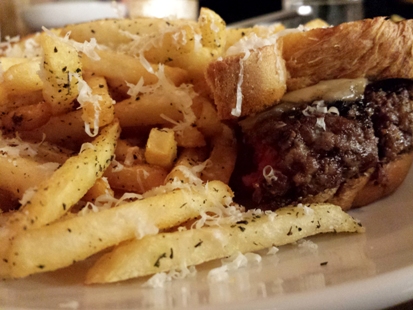 There's an underlying aesthetic theme throughout the restaurant of rebar which makes for some cool wine racks and design throughout the restaurant.  But Chef Mel, wife Sandy along with a great team are turning out food that is the real foundation in this foodie destination.  1570 Holcomb Bridge Rd, Space 810, Roswell GA. 30076  Phone 770.641.8877
Ready to taste more of the best?!
Tom Sullivan is a Television Host and Corporate Emcee based in Atlanta Georgia. Tom annually hosts Taste of Atlanta "Chef's Table" where he shares his love of food with local Chef's and a hungry audience.