The April issue of Women's Health magazine features a great article on how to Detox Your Life.  Some of the info I didn't realize including Paper Receipts…40% of the printed slips you get at stores, restaurants, ATMs and the like are coated with BPA (Bisphenol A) which was more commonly found in canned foods.  BPA linked to cancer, obesity, diabetes, infertility and heart disease.  The BPA is dusted onto receipt surfaces to activate the printing dye.  It can rub off on your fingers in seconds and enter the bloodstream within hours.  Wash your hands after handling receipts.
Many spray or plug-in air fresheners hide the fact they emit hormone disrupting chemicals called phthalates with cause infertility. They're often toxic and linked to obesity.  Opt for the natural air fresheners made from lemon peels and baking soda.  Houseplants like English Ivy and Philodendrons can have detoxifying powers.  Just place 4-5 pots in a big room.
For more see the April issue of Women's Health.
Eating healthy?  The first Organic Thai restaurant outside of Thailand is HERE!
You'll be waggin your tail with your pooch at the return of Mutts and Martinis at the W Atlanta Midtown.
Leave the hose at home, we'll have bowls for your pooch and bigger bowls for your drinks.
Additional dates:
Wednesday, August 7, 6PM
Wednesday, September 4, 6PM
WHERE:     Living Room Patio at W Atlanta – Midtown
188 14 Street NE
Atlanta, GA 30361
Sink your paws into this amazing new book on dogs and their owners and perk your ears up with the accompanying c.d.!

Tom Sullivan is a Television Host and Corporate Emcee based in Atlanta Georgia. Tom annually hosts Taste of Atlanta "Chef's Table" where he shares his love of food with local Chef's.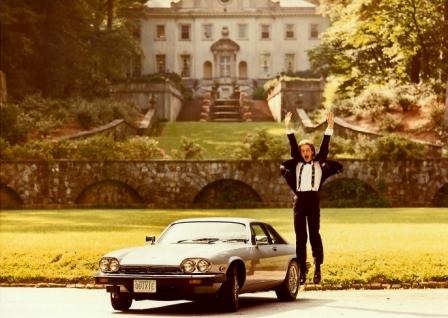 Growing up my love of radio evolved into playing radio station contests.  The excitement of hearing the disc jockey say "you're the winner" was thrilling!  I won many prizes during high school…so many in fact that I was featured in our High School newspaper.  I would win in friends names then go to the radio station with their i.d.'s and share the loot.  Eventually I was hired by the station I loved, WQXI "Quixie n Dixie".  When I walked into the prize closet I was amazed at all the prizes that I had been trying to win.  I remember my co-worker Vanessa pulling me aside one day and saying others were taking notice of how much stuff I was taking home!!
One year a local station 99 FM (WSB FM) gave away 99 keys that could possibly start a brand new Jaguar XJS.  I asked my General Manager Jerry Blum if I could enter this contest and he asked why…then agreed that we could turn it into a publicity campaign…that the WQXI station mascot ("Quixie Quacker", my job at the time) won a competitors contest!!  So with that green light, I set out to win a key.
The Contest titled "The Key to your Dreams" involved listening for the "key song of the day". I listened for days trying to win a key.  I even took the radio into the bathroom and remember jumping out of the shower to call in for a key.  Then one day while driving around town I heard the song to "call in and win!"  I pulled over to a pay phone and jumped out and inserted the coins and started dialing. (couldn't afford a cell phone.)  After multiple busy signals I got a ringing sound!! (To a contest player, a ringing sound is the ultimate sensation of reaching success!!)  My heart was racing–could this be the winning moment?  The disc jockey answered "99 FM Hi, who's this?"   TOM SULLIVAN!!  (insert excitement here!) YES!!!!  After I calmed down, I phoned all my friends…and then told everyone at work that I was "in" for a chance to win.
Only one person was not happy.  My boss Fleetwood said that if I won the car I would be off the air.  (I was doing part time shifts on WQXI AM 79.)  Bummed about the news, I had an idea.  I'd send my brother Walker to represent me.  I phoned the station, signed a release and my brother and his wife went to the Ritz Carlton for the grand giveaway. But when they arrived the station forgot to make the change so they told my brother "you'll be Tom Sullivan!"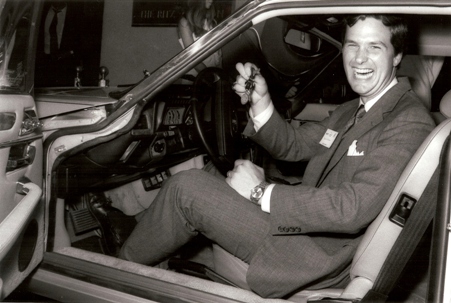 I was at home when the phone rang and it was Lisa: "Tommy, you won the car, YOU WON THE CAR!"  And an hour later I was driving over to my mom and dad's to show them my new wheels!!
I knew from the start I was going to sell the car (no trunk space for my duck suit) and found a buyer within a month.
I still enter contests and sometimes will call in to a radio station just to hear the disc jockey say "Hi, who's this?!"
I finally won a contest that I had entered for many years and it was from ellen!
Do You Have One of America's Most Desperate Landscapes?
DIY Network is searching for some of the ugliest front yards in America for a special edition of "Desperate Landscapes". It's the biggest makeover licensed contractor Jason Cameron and his team will do all year! 
Jason wants to see video and pictures of you and your very desperate front yard!  We're not talking small problems like a bad lawn or some dead shrubs.  We're looking for over-the-top desperation on the front of your house and in your landscape. We want yards that rank up there with America's Most Desperate Landscapes… yards so ugly that it will take a massive two-day transformation to take them from worst to first!
      Jason wants to see your yard and hear from neighbors who think your landscape is ugly!  The first step to getting Jason to show up at your house is by showing us your fun spirit and your depressing landscape.  Jason's advice: BE CREATIVE! Your video will be one of hundreds he'll receive so make a video that will really stand out.  Make it as big as your yard is ugly!!
Applications are online HERE!
2014 CASTING CALL: SINGLE PARENTS w/teens (ages 14-20)/Nationwide: For a brand new docu-series on a major network. Be whisked away on a summer vacation you all will remember forever. Doron Ofir Casting is proud to introduce the official call. More info/apply:  www.summertimecasting.com
NBC is launching an online search for comedy writers. Two winners of "NBC Comedy Playground" will have the chance to create shows to air on the net in summer 2015; celebs involved in selecting the top concepts include Eva Longoria, Sean Hayes, Mindy Kaling and Seth Meyers. Another winner, decided by public vote, lands an online comedy. Applications accepted at http://NBCComedyPlayground.com starting May.
CASTING CALL: For people w/EXTREME ADDICTIONS & causing serious problems in your life. Must appear to be between ages 16-24. Whether it's a celebrity & fame addiction, unusual eating, cyber s*x or plastic surgery binging addiction – we want to hear it! Email: MTVHookedCasting@gmail.com Full info HERE (4/11)

CASTING CALL: Homeowners/LA area: For backyard makeover show. Is your backyard an eyesore and your landscape looks like a jungle? Major cable ntwk & celeb landscape designer are ready to transform your backyard into an oasis. Email contact info incl age to: BackyardMakeoverCasting@gmail.com (4/20)
Winegrad Casting is looking for men for a new makeover series; specifically guys who have suffered a bad breakup or divorce and need to get back on their feet. The men will be paid $500; plus, receive a clothing and home decor makeover. To submit send your name, phone number, email address, city where you reside, age, occupation, two or three recent photos and a brief bio on your breakup, current state of mind, and why you would be great for the show to: WEINGRADCASTING@GMAIL.COM.
Ready to plant your feet in other TV shows?

I recently began taking a big interest in SERV International and the amazing work they are doing in The Dominican Republic and Kenya.  Ahead of a trip to Kenya I decided to dive in and get my feet wet with a Dominican trip first.  What I experienced was greater than I ever imagined.   SERV provides food to starving people in villages who have nothing.  The cost of a meal? Just 5 cents.  Five cents for a full nutritional meal of 688 calories. SERV also assists  in building schools, churches, rescuing orphans, rebuilding homes and providing water filtration systems which will give a family of 5 clean drinking water for TEN YEARS!!
I had the opportunity of putting together this simple system for a family during my trip. 
Turn a drill bit through a bucket, attach a washer, hose and the filter for instant clean drinking water!  (You can donate this system for just $65!)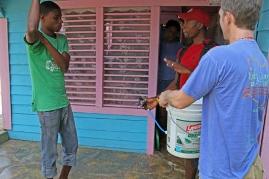 The smiles and faces of the Dominican people warm my soul.  Their spirit shines a light that illuminates all who meet them.  Love and Gratitude live here.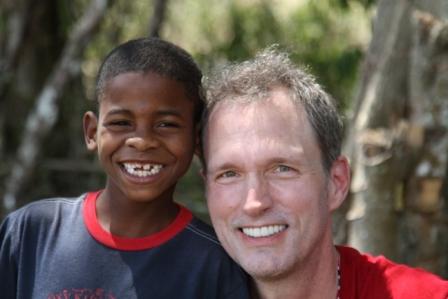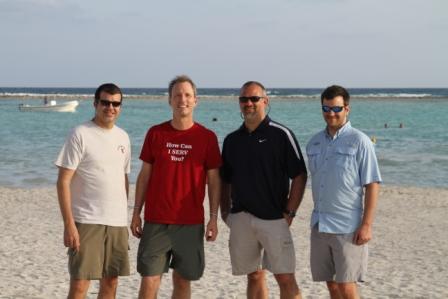 Thank You SERV International for blessing me with a life journey that is just beginning.  Steve, Joe and Jim: I'm ready for Kenya!
Watch this 4 minute video of my favorite moments from my (first) mission trip to Dominican Republic captured with my Canon 7D.
This IS "Life Change in Action!"
AMAZING Music by MERCY ME: "Beautiful."
Ready for another great moment? 
---