On a recent trip to Los Angeles and New York as Host and Emcee for another great Corporate event, I experienced the many delicious restaurants those cities offer.   I had Thai food while there but wanted something fresher, more organic.   Then, while working at The Taste of Atlanta "Inside the Food Studio" I met Pithya Kongthavorn who is the owner and executive chef of L'Thai  Organic Cuisine and Wine Bar located in Smyrna and Tucker.  As I spoke with Chef Pithya, I discovered he embraces the same healthy living philosophy that I do:
"Quality of my life is determined by my thoughts. However, what gives rise to my thoughts is not me. It is the neuron patterns in my brain reacting to my chemical intakes. I am just a processor of thoughts that have already been ignited.
In other words, life occurs in correlation to what I put in my body. When my body is at war; scarcity, anxiety and unfulfillment occur, and when it is nurtured; vitality, affinity and peace is inevitable."  –  Pithya Kongthavorn
Yes, I know this sounds deep but when you really think about it, we are made up of over 100 Trillion healthy,  loving cells. What you put into your body and your thoughts play a major role in your overall well being.
So I decided to experience L'Thai.  Billed as the 1st organic Thai restaurant in Atlanta, and in the world outside of Thailand, L'Thai is a delight.  Chef Pithya greeted us with a smile and explained all about the freshness of the cuisine.  The service staff was equally as prepared suggesting different dishes, organic wines and organic beers!! LOVE IT!  (My favorite was the St. Peter's Organic ale in the middle–cool bottle too!)
We started with Fresh Organic Basil Rolls.  Mixed organic greens, carrots, cucumber, bean sprouts, Thai rice noodles and fresh Thai basil, rolled in rice papers, served with light brown sauce and grounded peanuts.
I also highly recommend  the Curry Crab Cake.  A mixture of lump crabmeat with curry powder, spices and herbs, pan fried and served with  honey horseradish sauce.
The Sea Bass Gingerine was perfectly pan fried and topped with sauteed Julienne of ginger, onions, mushrooms and mixed vegetable in ginger wine sauce.
Thank You to Chef Pithya Kongthavorn and the staff of L'Thai for creating a destination that nurtures our spirit and the planet.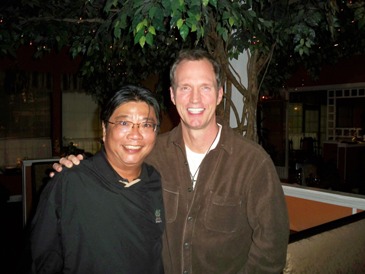 Enjoy the  taste of Italy in Woodstock!

Tom Sullivan is a Television Host and Corporate Emcee based in Atlanta Georgia. Tom annually hosts Taste of Atlanta "Chef's Table" where he shares his love of food with local Chef's.