Recently I was invited to a "garden party" at Milton's Cuisine in Crabapple, GA.  I had tasted the Milton's delight during Chef's Expo earlier this year and decided I would make the trek and enjoy a drink on the patio with some potted garden plants–I thought!
When we arrived I was taken back to the small towns I remember passing through on my way to the beach as a child.  The restaurant occupies a 150 year old farmhouse along with a 1930's cottage with the original hardiwood pine plank flooring and walls that all combine with the artful additions to create an inviting space for dinner and cocktails.
We strolled down a path under towering trees to find a bar, tent and beautiful 1 acre garden filled with the most beautiful fresh organic vegetables and herbs I'd ever seen. 
Master gardener Peter took us on a tour and showed us what farm to table at Milton's is all about.  We ate right off the garden including cayenne peppers, asparagus, tomatoes and corn.
Yes, corn tastes best when eaten raw! Try it.
Our garden party continued with samplings from the Miltons menu including a trio of fresh from the garden gazpacho prepared right on the spot from Milton's chefs. (I loved all 3!) And I savored the organic cucumber juice (filled with electrolytes, potassium and anti-oxidants.)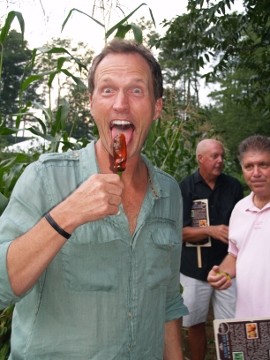 click on photo for Milton Herald story.  Photo Jonathan Copsey
Once inside we indulged in the sweet potato and shrimp fritters with red chili syrup and basil oil.  (Those didn't last long!) And the fried green tomato stack with goat cheese and tomato fondue was another winner. On the way out we were invited to shop Milton's fresh from the garden cart to continue our organic experience!
We'll be going back for dinner and are talking about doing a Chef's table in the garden this fall.  I'm counting down the days!  Explore this small town gem with a big town taste.
Looking to expand your tasting of Atlanta restaurants?  Taste THIS!