I just returned from a screening of Disney's "The Odd Life of Timothy Green" starring Jennifer Garner and Joel Edgerton perfectly cast as the parents to Timothy Green, delightfully played by C.J. Adams (Dan in Real Life.)
The brightest star of the film is the score by Geoff Zanelli. 
From the moment I sat down until the credits rolled, Geoff's music masterfully painted a tapestry that was as magical as Timothy and the gift he brought his parents.  (Soundtrack out August 14th.)  See this movie.  We all need more of  Timothy Green.
Another truly wonderful film and score HERE.
Here are some Odd Life FUN FACTS on the making of the film:
Academy Award®–nominated writer/director Peter Hedges ("Dan in Real Life," "About a Boy," "What's Eating Gilbert Grape") directed "The Odd Life of Timothy Green" and also penned the script, based on a story from producer Ahmet Zappa. Hedges was drawn to the project because home and family are important themes that resonate with him—plus the story had a magical element, which presented a new experience for him in both writing and directing.
When Peter Hedges was filming "Dan in Real Life," in his ensemble cast there was a 6-year-old boy named CJ Adams. CJ's role was small; he only had a few lines, but he and director Hedges forged a special friendship. Five years later Hedges found himself on a nationwide search for a boy to play the title role of Timothy Green in "The Odd Life of Timothy Green." Over a thousand boys auditioned, but it was CJ Adams who ultimately won the part and the two were happily reunited on set.
"The Odd Life of Timothy Green" takes place in Stanleyville, which is a fictitious small town in Anywhere, USA. The generic license plates on the cars read "The Best Place to Live."
The set for the Stanleyville Pencil factory, which is the fictitious town's main employer, was created in Monroe, Georgia, inside an abandoned textile factory warehouse. Production designer Wynn Thomas ("Get Smart," "A Beautiful Mind") visited one of the few operating pencil factories in the United States to see pencils actually being manufactured and then duplicated the old-school techniques inside his set, using conveyor belts and mock painting machinery. He even rented a few key pieces of machinery from the General Pencil Factory in Jersey City.  A crew also traveled to the Musgrave pencil factory in Shelbyville, Tennessee, where they shot close-ups of the pencil-making equipment for the first shots of the factory in the film.
Through the windows of the Monroe warehouse turned pencil factory, you can see a huge smoke stack, which, with the help of the visual effects department, was transformed into a large pencil for the film.
Hundreds of pencils were stamped with the Stanleyville name on their side, a detail you may never see on film, but which added realism to the actors' performances. Two billion pencils are made in the USA each year, so the special Stanleyville pencils were just a drop in the bucket.
One of the items prop master Ritchie Kremer had to come up with was the box that Cindy and Jim Green bury in the backyard with their wish-child attributes inside.  Kremer had made a box for his dad in his junior high school wood-shop class that he thought might be a good fit for the job and director Peter Hedges agreed.
The scenes between the Greens and botanist Reggie Marks, played by Lin-Manuel Miranda, took place at a very well-known nursery in Decatur, Georgia.  The nursery is the home of world-renowned landscape artist and gardener, Ryan Gainey. From topiaries to cacti, a huge variety of plants and flowers flourish in Gainey's masterpiece gardens.
The role of Reggie Marks in "The Odd Life of Timothy Green" is the first feature-film speaking part for award–winning composer/lyricist/actor Lin-Manuel Miranda, who is most famous for the Broadway musical "In the Heights," for which he won the Tony Award® for Best Original Score.
Greensman Daniel J. Gillooly ("Alice in Wonderland," "Edward Scissorhands," "True Grit") had a huge challenge on "The Odd Life of Timothy Green" to create a look for all seasons, even though filming was happening in the middle of winter. Where existing trees were barren and within shot, Gillooly and his twelve-person team would work their movie magic, but not without some very labor-intensive, handmade efforts. Silk leaves were attached one-by-one to tree branches. So that the existing branches were not damaged, the leaves would be attached using plastic rings and the rings would each be hand-painted to blend in with the color of the tree bark. Some trees had more than 50,000 leaves attached to them by hand.
In Tucker, Georgia, The Tucker Youth Soccer Association lent some of its young athletes to the cast. They practiced several weeks in advance, training and rehearsing for their scenes.
It looks like a science fiction movie but photographer Niccolo Bonfadini captured these striking images of…TREES!  The Arctic circle filled with trees buried under a foot of snow looking like another planet.  See more images HERE.
See Atlanta's Fox Theatre covered in snow!
Great idea to put a camera on the Forever 21 billboard in New York City to capture an image of people looking at the giant video monitor which flashes store ads in between the glimpses of those on the street.
Can you spot me in the picture? (hint: I've got on a Navy Blue wool coat!)
Did you find me?!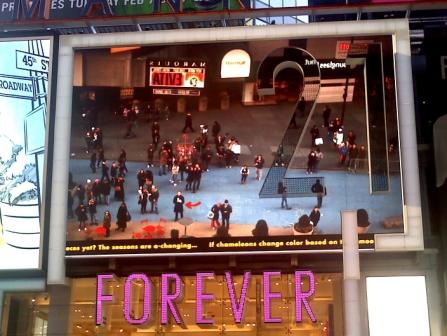 Can you find the dragonfly? Check my shadow!
Recently I was invited to a "garden party" at Milton's Cuisine in Crabapple, GA.  I had tasted the Milton's delight during Chef's Expo earlier this year and decided I would make the trek and enjoy a drink on the patio with some potted garden plants–I thought!
When we arrived I was taken back to the small towns I remember passing through on my way to the beach as a child.  The restaurant occupies a 150 year old farmhouse along with a 1930's cottage with the original hardiwood pine plank flooring and walls that all combine with the artful additions to create an inviting space for dinner and cocktails.
We strolled down a path under towering trees to find a bar, tent and beautiful 1 acre garden filled with the most beautiful fresh organic vegetables and herbs I'd ever seen. 
Master gardener Peter took us on a tour and showed us what farm to table at Milton's is all about.  We ate right off the garden including cayenne peppers, asparagus, tomatoes and corn.
Yes, corn tastes best when eaten raw! Try it.
Our garden party continued with samplings from the Miltons menu including a trio of fresh from the garden gazpacho prepared right on the spot from Milton's chefs. (I loved all 3!) And I savored the organic cucumber juice (filled with electrolytes, potassium and anti-oxidants.)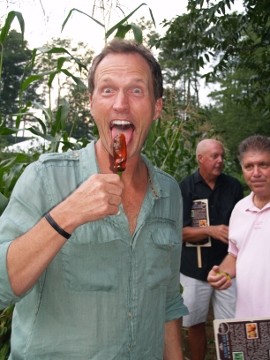 click on photo for Milton Herald story.  Photo Jonathan Copsey
Once inside we indulged in the sweet potato and shrimp fritters with red chili syrup and basil oil.  (Those didn't last long!) And the fried green tomato stack with goat cheese and tomato fondue was another winner. On the way out we were invited to shop Milton's fresh from the garden cart to continue our organic experience!
We'll be going back for dinner and are talking about doing a Chef's table in the garden this fall.  I'm counting down the days!  Explore this small town gem with a big town taste.
Looking to expand your tasting of Atlanta restaurants?  Taste THIS!
You know one of those great moments in life where things just fall into place?  Last night was one of those times.  My friends Denny and Kathy picked us up and we headed to Decatur for dinner.  We figured we'd just walk around and find a place.  Kathy suggested Cakes and Ale but said it was difficult to get in and especially at 8 p.m. without a reservation.  I said let's give it a try.
As we approach the restaurant I remembered working with Cakes and Ale at Taste of Atlanta and was excited to try what I had heard so much about.  The restaurant had this great vibe as we got closer.  I loved the styling and setting in the renovated space.  Decatur is such a great night out anyway.
We were greeted by a dynamic host team at the door.  William and Kristen were all smiles and had great personalities to match.  We felt right at home and didn't mind there were no tables available "but a party of four is running late and we hold tables for 30 minutes so if you can wait just another 18 minutes, you can be seated!"  We strolled next door to The Bakery at Cakes and Ale (we love the original bakery sign that occupied the space before the 1930's uncovered during renovation.) We drooled over the homemade pastries, cookies and the like and ordered a great house wine then watched the clock.  Before we knew it, William came in and said "follow me!"
Our server Doug greeted us promptly and brought drinks.  We loved when he said "are you all ready to order supper?!"  Supper? AWESOME!! He confessed it was part of his Alabama upbringing.  The mood was set for what was going to be a great evening.
After we placed our orders, in walked the party of four running now 45 minutes late: Vince Vaughn!  (Vince is here working on a new movie "The Internship". )  My friend John from Hard Rock left for Hollywood years and years ago and ended up working with Vince so everything he said was evident.  Really nice guy, friendly and great tipper! (inside information.)
Definitely order the fried okra and homemade ranch dressing.  (I dunked homemade bread in the ranch and could have eaten more.)  The wood-oven roasted squashes and onion, soft scrambled eggs, trumpet mushrooms, roasted potatoes, tomato, feta, romesco was heavenly.  The smoked wild salmon, corn, potatoes & roasted peppers, fig & sweet onion puree was another delight.  The creamed corn and butter beans were like mama's.  Dessert, you name it! I loved the salt and pepper cookies (which resemble oreo's but like all dessert items are home made.)  The peach dessert was sinful.  Fresh off the tree in taste and texture.
I like the Cakes and Ale philosophy using produce, meat, poultry and fish from farms, ranches and fisheries guided by principles of sustainability.   And with that ethic is a restaurant that will have a long sustainability in the Decatur area.
Dining out? Take your Knife and Fork!
---