Gift for Life proudly announces that Party for Life New York (January 2011) raised (drum roll, please….) more than $150,000 on behalf of DIFFA to support HIV/AIDS prevention!
"We are thrilled with the generosity of the industry as we raise funds while having tremendous fun," said Jenny Hammons, Gift for Life chairperson.  "To date we have raised more than $5 million for HIV/AIDS research and assistance through the generous help of partners and party attendees.  We look forward to seeing everyone in January 2012."
Event Host and Emcee Tom Sullivan said "I love this event!  Plus, walking through Central Park with 21″ of snow on the ground was just beautiful.  Thank you to everyone who volunteered their time and energy to support life.  See you in 2012!"
And by "party attendees," she means the 350+ folks who were there kicking up their heels and letting down the hair. Not a bad way to spend Sunday night.
Thanks to everyone who helped make this year's fundraiser a rousing success; when we all pull together, we really can make a difference (and have a little fun at the same time).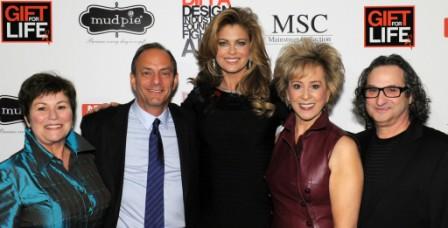 Jenny Hammons (outgoing GFL Chair), David Moses (Bert Tonkin Gift of Giving Award), Kathy Ireland (Design for Life Award), Marsha Miller (Trailblazer Award), and Peter Schauben (one of the original GFL founders)

The breathtaking Las Vegas skyline was the perfect backdrop for attendees of the inaugural Gift for Life "Up on the Roof" charity cocktail reception on opening night of Summer 2011 Las Vegas Market, Aug. 1. The SkyView Terrace rooftop event resulted in more than 500 tickets sold, raising more than $12,000 in proceeds benefiting the Design Industries Foundation Fighting Aids.
Buyers, designers, manufacturers, journalists and VIPs gathered on the roof of World Market Center Las Vegas' Building B for an evening of fun and fundraising, soaking up the sun and Las Vegas party atmosphere.
"I have been the emcee of this event since the late '90s and the vibe here in Las Vegas is fun and positive," said Tom Sullivan, host of the Gift for Life event. "People are buying, shopping and partying, just as you would expect. Here at Gift for Life, the mood is also upbeat because it's all for a good cause."
The supportive turnout of industry leaders and gift attendees enjoyed cocktails, appetizers, live music and prizes. Among the VIP guests were design stars Roger Thomas and HGTV's Monica Pedersen. Prizes were also star-worthy, including raffle items such as a Peter Lik photo, autographed Bill Clinton books, and show tickets. An impressive $2,350 was raised selling raffle tickets.
Steven Williams, Director of Community Relations for DIFFA, was pleased with the success of the event. "DIFFA is thrilled that the Las Vegas Market's first event on behalf of Gift for Life raised more than $12,000 for persons living with HIV/AIDS and we look forward to our next endeavor together. Now more than ever such support is critical to the future of the organizations DIFFA helps to fund."
Thanks to everyone at Las Vegas World Market for the fun party and wonderful support. We had a blast!
I've had dreams of wild horses running through fields after seeing footage from Cumberland Island.  I relived that dream live last night at Cavalia "Odysseo" which ends its successful run here in Atlanta this Sunday.  The worlds largest touring big top is home to Odysseo and spans larger than a football field.  Created just for this show, the tent measures  300+ feet long x 200+ feet wide provide a massive 27,000 square foot stage that brings over 70 horses, 50 performers and a magic I haven't seen since Cirque du soleil.  Plenty of unobstructed views from any of the 2,300 seats!  The tent covers 66,000 sq. feet!  Of course the beautiful horses are the star, but the musicians housed in trees on either side of the stage bring the show to life performing each show live! Normand Latourelle is mastermind behind the show and the  pioneer of Cirque du Soleil.  You must see this show in person to experience the true grandeur and magnificence.
Odysseo offers the Rendez-vous room which is a extra large corner of the tent with VIP service featuring several buffet stations and chef prepared foods.  I enjoyed shrimp, pasta, chicken, salad, vegetables and open bar and all in a warm elegant setting.  Step outside to the Rendez-vous terrace with heat lamps, tables, and your own private bathrooms. During the intermission you can return to the VIP tent for desserts and more refreshments.  After the show, you'll meet a few of the performers for autographs and pictures.  Then, a tour of the stables where these champion horses are pampered like babies.  Indulge in this Cavalia delight.  Discount tickets are available or call 1-866-999-8111. (you can also google "Odysseo discount tickets" for additional savings.)

Meet some of the performers in Cavalia "Odysseo"
Ready to experience another show?
Imagine sitting down on an airplane, fastening your seat belt and settling in for another normal flight to your destination when all of the sudden the lights flash, screens flicker and the entire inflight team (and even a pilot) start dancing in the aisles!  It happened on a recent flight AY 021 Helsinki to Delhi.
and all were extremely happy to Bolly through the plane to send you their greeting with respect and joy celebrating  this special day all over India.  The passengers welcomed the surprise dance with joy and applause.  How do you follow that?  The inflight safety dance? My kind of airline!!
Flying on Delta?  Look for my hand!
I joined Vikki Locke at Lucky's Burger & Brew in Roswell for lunch.  It was my lucky day!  Located in this cool curved strip center off  Alpharetta street (1144 Alpharetta Street), Lucky's  (named after owner's Ernie & Diane's golden retriever and star of the Lucky's logo) has the warmth of a golden retriever puppy snuggling in your lap.  The interior feels like a well established neighborhood hangout.
Being a dog lover myself, I enjoyed the dog themed sandwich's on the menu. I ordered the "Chihuahua" that comes topped with chopped green chiles (Lucky's is one of only two restaurants in Atlanta that use these particular peppers), pepper jack cheese, chipotle mayonnaise, guacamole and served on a warm soft egg bun.  I ordered a side of jalapeno's. Perfection!

Besides absolutely delicious, juicy burgers, Lucky's menu features sandwiches, wings, salads, desserts and kids meals.  A full bar wets any appetite.   Bring yourself, family and your dog to Lucky's in Roswell. It'll be the best treat you've had all day!
$8 Dollar Lunch Specials!
(includes 7oz Burger, Fries and Drink) Monday – Thursday
Noon to 4PM
Wana go to Ireland? Start in your kitchen!
Photo courtesy:
Becky Stein
---