Just hear those sleigh bells ringling ting ting tingling too!!  Oh yes, it's Christmas time and the Fox Theatre is rolling out it's annual "Larry, Carols and Mo" Doors open at 6 p.m. and we begin singing holiday songs at 7 p.m.!! This is an absolutely FREE* admission event–but you need a ticket to get in. I'm so excited to be invited back as Host and Emcee to The Fabulous Fox Theatre for this Christmas tradition. (*small per ticket fee of $2.50)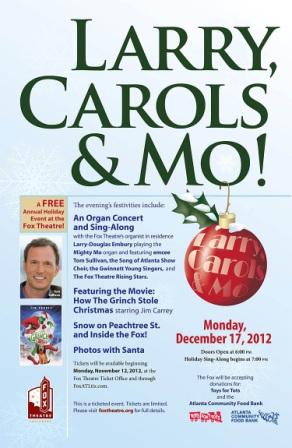 Come wearing your Grinch Green and Christmas Red as we deck the halls with holiday cheer Monday, December 17th, 2012 at The Fabulous Fox Theatre!
In the Christmas spirit already? Pick up one of my most favorite c.d.'s!