Costco.com has more higher end items than the warehouse.  Example: I bought a misting fan for summer that sold for $169.00 at Frontgate for $89.99 at Costco.com  Check out the deals (prices shown Monday…)
Just hear those sleigh bells ringling ting ting tingling too!!  Oh yes, it's Christmas time and the Fox Theatre is rolling out it's annual "Larry, Carols and Mo" Doors open at 6 p.m. and we begin singing holiday songs at 7 p.m.!! This is an absolutely FREE* admission event–but you need a ticket to get in. I'm so excited to be invited back as Host and Emcee to The Fabulous Fox Theatre for this Christmas tradition. (*small per ticket fee of $2.50)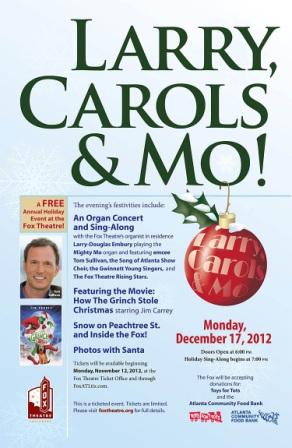 Come wearing your Grinch Green and Christmas Red as we deck the halls with holiday cheer Monday, December 17th, 2012 at The Fabulous Fox Theatre!
In the Christmas spirit already? Pick up one of my most favorite c.d.'s!
Well being from Ireland (in my heart but my ancestors actually were,) I have long had a desire to travel to my homeland and explore the Emerald Isle.   Well in the meantime, I discovered a gifted local chef who's Irish roots are now planted here in Atlanta.
Judith McLoughlin is as Irish as they come and her new Irish fusion cookbook "The Shamrock and Peach" traces her heritage along with her favorite Irish recipes that will take you back to her childhood kitchen that was always filled with the scrumptious smells of farmhouse cooking.  Whether it was Fresh soda Bread or roasting lamb, the memories are a delight to your palette. The beautifully stunning photography by husband Gary McLoughlin is a delight to your eyes.
Over 100 creative recipes in a wonderful format that allows the reader to go on a journey of discovery from the green fields of Ireland to the front porches of Georgia.  "The Shamrock and Peach" will fuse the cultures of these historically linked regions in a new and fresh way – the language of really good food. (ya'll!)
The Classic Ulster Fry Stack:  A twist on the Northern Ireland classic!
Meet Judith and watch as she prepares my favorite Irish dessert!
To celebrate the books release there was a party at fado Irish Pub in Buckhead.  Irish Dancers Damon and Lucy from the Drake School of Irish Dance and Champion Fiddle Player Katherine Irwin Thomas brought the Irish spirit of dance which paired oh so well with my cold Guinness! (or 2, or 3…)
Whether your Irish or not,   "The Shamrock and Peach"
will allow you to turn comfort food into an art form fusing Scots-Irish food with Appalachian Southern culture and a blending of the old with the new.
As Judith says, "Joy in the Journey!"
Hungry now? Head to Italy…in Woodstock Georgia!