I went to Buckhead Church today for my fourth visit and I am always surprised, enlightened and blessed every time I go.  My friends Trey and Marjorie Miller who first introduced me to B.C. just celebrated the birth of their new baby girl so I journeyed to church solo.  Song playing in the church as I arrive?  Miley Cyrus "Party in the U.S.A."  Seriously, when was the last time you heard Miley Cyrus in your church?!!  Ok, if you think that's wild, try Wild Cherry "Play That Funky Music" or Van Halen "Jump" IN CHURCH!!  What a departure from my Catholic church days.  This is Change you can REALLY believe in!
The band comes on stage at 9 ish and breaks into Kool & the Gang "Celebration".  This is just like a Chastain Concert my friends and it's FREE!!  The band mixes into Earth Wind and Fire "September" then into C&C Music Factory "Here We Go".  WOW is all I gotta say!!!
Campus Pastor Jeff Henderson comes out to welcome everyone to the "Surprise Party", makes a few quick announcements then surprises everyone with gift card giveaways!! Then, it's back into the music.  Now, the music at Buckhead Church is so much a part of the message.  Over 40 professional musicians rotate around the various North Point campuses and perform at each service.  Today I was blessed to hear my new favorite song "When The Waters Rise" (written by Casey Darnell) performed by an artist I had never heard of but will be adding to my itunes favorites.  His name is  Seth Condrey and he sounds amazing.  His voice reminded me so much of Casey's but are still very much different.  The song just picks me up and flies me across the room.  Another surprise?  The talented and gifted female vocalist Mandy Miller who's voice further lifted me up. (To borrow a line from Oprah, that's Joy Rising!)  When Mandy spoke about her life and how at one point was in the lowest pit of life possible, God came and joined her and lifted her out, tears just flowed down my face.  She began to sing an amazing song ("How He Loves") that echoed the power of her experience and what each of us can experience when we open that door to Christ.  Powerful stuff and it's just 9:20.   Seth closed the bands performance and seamlessly spoke from the heart praising God for his blessings and asking for him to be with each of us.
Senior Pastor Andy Stanley was off this Sunday (but at North Point making announcements) so we were treated to another surprise—Clay Scroggins, the Director of High School Ministries at North Point Community Church. Clay not only had a great message but was entertaining AND funny! Just another of the many surprises this morning.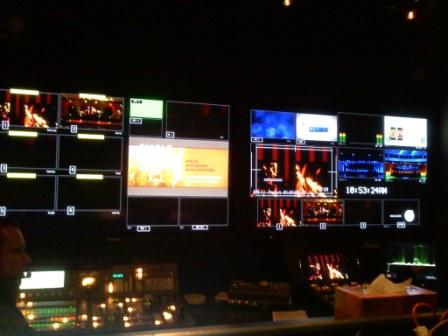 Afterwards, I met up with my friend Mark who took me into production and introduced me to the talented team that works back stage to bring each show on screen.  Video Director Tim Francher gave me the honor of sitting in during the 11 a.m. service with a headset to watch them in action.   These mostly volunteers orchestrate a show that you really have to see on stage in person.  Thank you to Mark Sampl and the team at Buckhead Church who introduced me to the band and my behind the scenes tour.  Also to the countless volunteers who work hard to make an outstanding first impression on visitors like me.  Come to Buckhead Church, you'll leave filled up and happy from this amazing spiritual gas station.
You may enjoy my very first visit to Buckhead Church by clicking here.
Thanks to Mandy Joe Miller for posting this on her website!

Watch Mandy sing "How He Loves" from Buckhead Church!