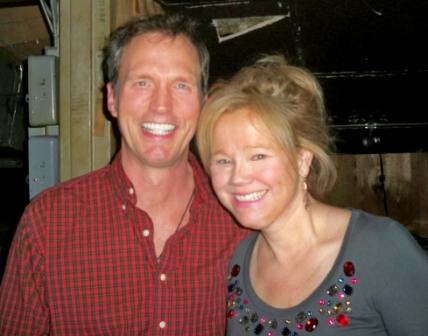 Caroline Rhea is returning to Atlanta's Punchline Comedy Club  for 2 full days of amazing comedy!! Friday June 17th with 2 shows  and Saturday June 18th with 3 shows!  Get your tickets and laugh your ass off!!
I love Caroline Rhea–she is my favorite female comedian legend (Craig Shoemaker is my favorite male comedy legend–oh CRAIG!)  and I always have to take two Advil BEFORE I see her.  Why? Because I have a lack of oxygen from laughing so hard.  I asked Vikki to please spank me last year during the show so I could regain consciousness.
What I love about Caroline Rhea is something that not many comedians can do.   She can adapt to any situation and be quick on her feet.  Her timing is like my sex–very quick!  Enjoy a night out at Atlanta's Premiere Comedy Club now in their new location at The Landmark Diner in Buckhead! (Corner of Piedmont and Roswell Road.) The Punchline, celebrating over 30 years of Atlanta's Best comedy. Tickets HERE!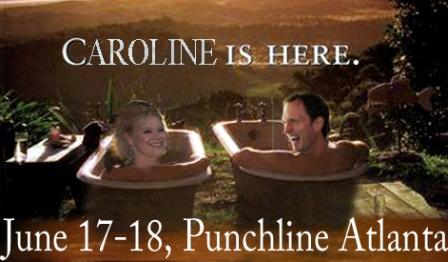 After the show get a great sleep here!
I spent the past two days as Host & Emcee of a conference for VSoft, a global information and technology provider of process improvement solutions for financial institutions. (I know, a little intense sounding but a delight for people in the banking industry who use their software.)  The event titled "Recipe For Success" took place at the Westin Buckhead (love those Heavenly beds which by the way are Simmons Beautyrest mattresses, I looked.)  One sure recipe for success is an event company that is prepared from start to finish. CCP Events led by Terry Singleton and her team were all that a host and emcee like myself could ask for. Bravo!
The day started around 8:30 a.m. with Chef Rebecca Lang who blended her recipe for Black and White Mint brownies with the ingredients of being successful in the marketplace.  (I especially loved the cooking tips she mixed in during the presentation.) The brownies were fantastic–thick and chewy.  And who doesn't love chocolate at 9 in the morning, right?!
After a long day of seminars and product reporting, we had a team building experience. Chef Challenge! Chef Challenge divided everyone into 6 teams.  They were: "Eggheads" & "Sweetie Pie" making the Apps, "Spicy Chefs" and "Georgia Peaches" making the salad and "peaNUTS" and "Hot Tamales" making the dessert.  The chef team at the Westin provided all the ingredients and perhaps they knew better of us novices in the kitchen as they nicely laid out plastic sheeting to protect the carpeting! The team of judges (Hotel employees) judged on overall first impression (I had many but couldn't say them out loud), Creativity and product utilization, Presentation, Timeliness, Taste/Flavor Combinations and Team Spirit/Team Work/Passion & Energy.
The competition was hot as a kitchen.  All the wannabe chef's assembled their creations influenced by their favorite adult beverage which made for a truly exciting hour!! The desserts were creme brulee and that meant blow torches–STAND BACK! I was even hand fed Jalapeno cornbread by one team member!  Perhaps he thought it would influence my decision for a winner. (The winner in my mind at that point was the cornbread.)  I, however, was not voting but loved the personalized attention.   Once the hour was done and dishes submitted, we all sat down and the fantastic service staff at the Westin Buckhead served up the teams creations to thunderous rounds of applause.
The winners? Eggheads led by Jon Reneslacis for Apps, Georgia Peaches led by Don Walton (who has another career in salads!) and Hot Tamales led by Charles Wiggins for Desserts.  We were fed a lot of ingredients over 3 days. So what did I learn? Never put good knives in the dishwasher (loosens the handles and dulls them), use foil with the dull side up as food is less likely to stick (who knew), wood cutting boards are safe to use and for check imaging software development & providers, along with data processing and more, I choose VSoft.
It's People who make a company even greater than their products.  Amy Garrett who was my personal "chef" helped create the recipe for this very successful event. And thank you to Chairman Murthy Veeraghanta, President Shekar Viswanathan and their team for tremendous hospitality.  The V in VSoft stands for Versatile: Flexible + Innovative + Nimble + Global. Through their own staff, customers, clients and partners I experienced tremendous versatility in a company that sees tomorrow–today.  These are all the ingredients in a real recipe for success.
Way to go C&S seafood, voted by Meridith Ford of the AJC as BEST!  Meridith says "
OUR PICKS

1) C & S Seafood and Oyster Bar
Dining critic Meridith Ford Goldman says, "For a landlocked city like Atlanta, a classic fish house is a refreshing change from the usual steak-and-sushi gig, and C & S proves its mettle when it comes to making simple preparations — broiled or chargrilled fish, elegant but simply prepared with sides of roasted fingerling potatoes and haricot verts — into big, bold plates of beauty."
Tom says "C&S is a classy 'joint' from yesteryear with tastes and style that will have you coming back.  Love their organic liqueurs too!  The grill roasted oysters are A M A Z I N G!  I licked the shells (gently.)

My God son Aidan Hornaday is only 8 years old but he has the heart and soul of someone many years his age.  Aidan loves to play harmonica and turned his passion into raising money.  He's raised over $3,000 for orphans in Africa to help fight intestinal parasites.  $1.00 buys four pills and so far has raised enough money for 12,000 pills!!!  When I was eight years old, I was playing with G.I. Joe's (and Barbies-Joe wanted a date you know.)  I am extremely proud of  him.  As a matter of fact,  Aidan caught the eye of Ellen DeGeneres and her producers.  Way to go Aidan! Love, Tom.

Last  year I was invited to a media dinner for the opening of Flip Burger Boutique and couldn't make it.  Then many people began talking about the burgers.  I still said "no big deal, I've had burgers before…"  Then my sister came in from Calif. and raved about it.  I thought "glad  you had a good time maybe I'll get by there one day..no rush." What was I thinking!
That day came!  And I flipped over Flip! First the restaurant is very LA in appearance and feel.   Very crisp inside with white and stainless throughout.  Not only is the place inviting to the eye, the food is the main star.  Top Chef Richard Blais presents his own take on beef Burgers: 5.5 oz : hanger steak, brisket, & short rib (and  Flip burgers are non beef  like lamb, pork, mushroom, salmon, chickpea, tuna, veal, turkey…) In an interview with Sherri Daye Scott from QSR magazine, Chef Blais says he has a rotation of about 30 burgers. (the menu can change daily.)  I had the Farm burger: organic grass-fed beef, corn aioli, heirloom tomato, local lettuce, grilled vidalia onion, b&b pickles.  It was stunning! Mouthwatering smokey flavors that joined others under the Brioche bun to create a symphony!  Look at the size of this thing!
The fries?  Hand cut and ate most all of them before I even touched the burger–and ordered another bowl!  Why are these fries so good? Chef says that his potatoes go through a "spa treatment"  When spuds arrive they go into a "bath" for two days (refreshing and helps with sugar/starch balance.) THEN, get this, once the spuds are cooked, they're dipped in NITROGEN!! This "flash freezes" them and then they're fried on order.  Ahhh! Now I know why they're so fresh tasting…crispy and cooked all the way through.


My friend Maggie insisted that we get the Krispy Kreme milkshake, whole milk and homemade ice cream blended with one and a half K.K. doughnuts!  It was awesome!  But there's that extra ingredient that Chef Blais says is a first–Nitrogen! Yes, not only fries getting the Nitro flash, but  Flip is the first Nitrogen milkshake bar in the world! The ice cream is blended daily and the nitrogen instantly freezes it so you're not going to find many, if any ice crystals that you'd normally get in a freezer.
If you love Krispy Kreme doughnuts, you'll be in Heaven with this!
The only distraction was the noise level.  During the lunch rush, the place was packed and people lined up out the door.  We had to say "what" several times to hear each others conversation.  Outside dining is available and lots of parking.  Wana beat crowds? GET THERE EARLY.

Flip is located on Howell Mill road 1587 Howell Mill road, Atlanta, GA 30318
www.flipburgerboutique.com and visit their newest location at Roswell road and Piedmont.
---